Google Stuff
Four Things Google Plus Could Do To Fix Google Plus. Saturday's Google+ user account deletion purge plunged the new social network into a crisis of user trust.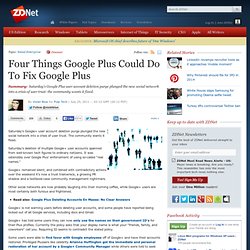 The community wants it fixed. Saturday's deletion of multiple Google+ user accounts spanned from well-known tech figures to ordinary netizens. Google Plus Deleting Accounts En Masse: No Clear Answers. A striking number of Google+ accounts have been deleted in the last 24 hours as the new social network struggles with its community standards policy around real names - alienating and frightening the people it aims to serve.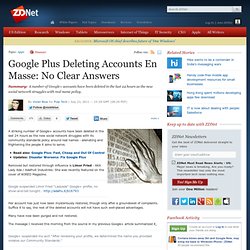 Removed but restored through influence is Limor Fried - AKA Lady Ada / Adafruit Industries: She was recently featured on the cover of WIRED Magazine. Google suspended Limor Fried "Ladyada" Google+ profile, no show-and-tell tonight… Her account has just now been mysteriously restored, though only after a groundswell of complaints. Suffice it to say, the rest of the deleted accounts will not have such well-placed advantages. Many have now been purged and not restored. 83 percent of Google+ users are inactive [INFOGRAPHIC] Update: On Monday, Bime Analytics responded to many of the concerns posted here and elsewhere on the Internet about the data presented in this infographic, specifically, the data point about active and inactive users, saying that "a user is classed as active if they have posted at least once publicly on G+."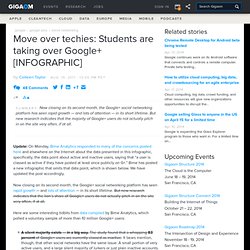 Bime has posted a new infographic that omits that data point, which is shown below. We have updated the post accordingly. Google+
NymWars
Analysis: When Google+ gives Facebook a run for its money. Rain or shine, see the weather in Google Maps. Whether you're organizing a trip overseas or a picnic at a local park, knowing the weather forecast is a crucial part of the planning process.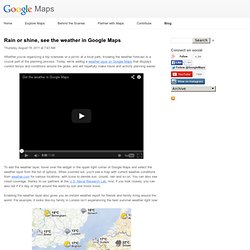 Today, we're adding a weather layer on Google Maps that displays current temps and conditions around the globe, and will hopefully make travel and activity planning easier. To add the weather layer, hover over the widget in the upper right corner of Google Maps and select the weather layer from the list of options. When zoomed out, you'll see a map with current weather conditions from weather.com for various locations, with icons to denote sun, clouds, rain and so on. You can also see cloud coverage, thanks to our partners at the U.S.
---