Audiobooks
LivingBooks for the Ears: Free AudioBooks Each Week - Freely Educate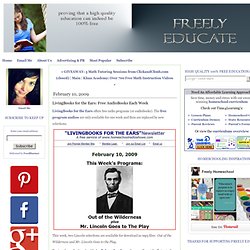 LivingBooks for the Ears offers free radio programs (or audiobooks). The free program audios are only available for one week and then are replaced by new selections. This week, two Lincoln selections are available for download as mp3 files: Out of the Wilderness and Mr. Lincoln Goes to the Play.
From Project Gutenberg, the first producer of free ebooks. Project Gutenberg makes audio eBooks available for some of the same great literature available in plain text. Our listings are divided into two categories: Human-read and computer-generated audio books. These files can be very large, so are not well suited for people using a modem or other low-speed connection. Human-read Audio Books Thanks to AudioBooksForFree.com for our Arthur Conan Doyle series of human readings, and to LiteralSystems.org for work on new readings by volunteers.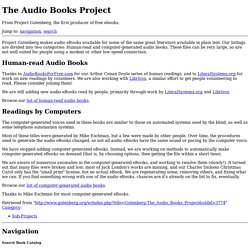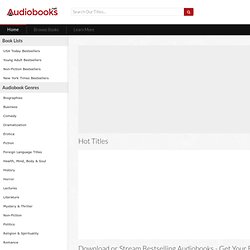 Description: This title won James Patrick Kelly the 2007 Nebula Award This title has graciously been made available to the public by Jim Kelly. If you enjoy this title please show your support by making a donation. You can do so by visiting his website.