Minifier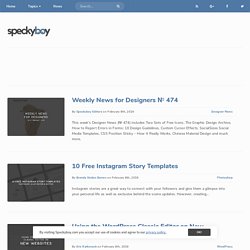 What we have for you today are a selection of free high-resolution corporate identity mockup templates that will allow you to create your own professional personal branding with ease. The templates are all in PSD… Collaboration is how things are accomplished these days. With collaboration, we can reach incredible creative heights.
60 PSD Icon and Button Templates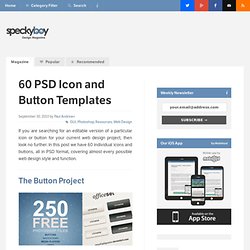 If you are searching for an editable version of a particular icon or button for your current web design project, then look no further. In this post we have 60 individual icons and buttons, all in PSD format, covering almost every possible web design style and function. The Button Project This monumentally huge PSD button selection consists of 96 sets and 250 different PSD files, including buttons, icons, orbs, OS GUIs and web layout interface elements. License: You are allowed to use these buttons for personal or non-commercial use.
Browser extensions and other uses: Written by Einar Lielmanis, einar@jsbeautifier.org, maintained and evolved by Liam Newman. We use the wonderful CodeMirror syntax highlighting editor, written by Marijn Haverbeke. Made with a great help of Jason Diamond, Patrick Hof, Nochum Sossonko, Andreas Schneider, Dave Vasilevsky, Vital Batmanov, Ron Baldwin, Gabriel Harrison, Chris J. Shull, Mathias Bynens, Vittorio Gambaletta, Stefano Sanfilippo and Daniel Stockman.
Testez les performances d'un site
Lorsque l'on code un site Internet, on pense aux graphismes, à l'ergonomie et au temps de chargement. Mais certains aspect sont trop souvent négligés, notamment les performances javascripts et CSS. Pour cela, il existe 4 bookmarklets simples et pratiques pour trouver et corriger les principaux défauts de vos fichiers JS et CSS. C'est quoi un bookmarklet ? Pour ceux qui ne connaissent, pas, un bookmarklet est un favori (ou marque-page), sauf qu'il s'agit en réalité d'un javascript.