CSS
CSS Front-end Frameworks with comparison - By usabli.ca. Devoth's HEX 2 RGBA Color Calculator. CSS3 Create - Démos, tutoriels et expériences CSS3 : menus, galerie photos, interfaces web. BonBon Buttons - Sweet CSS3 buttons. There was a goal: Create CSS buttons that are sexy looking, really flexible, but with the most minimalistic markup as possible.
And voila.. here they are, the BonBon Buttons. Named after the French word for "Candy". CSS3 Click Chart | CSS3 Browser Support and Information. Download free CSS templates - Free CSS Templates. Data Tables and Cascading Style Sheets Gallery. What is this about?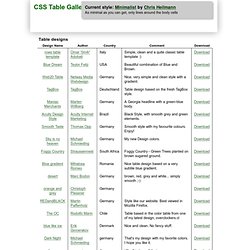 The CSS Table Gallery is a showcase of how CSS and data tables can work together to create usable and pretty results. Every once in a while there are emails on discussion lists asking for nicely designed tables and they are prone to go off-topic and ending in a holy war why tables are bad and why you shouldn't use them. Basically the thread/email that gave me the idea was this request on the evolt list. PrefixMyCSS - Prefix your CSS3 code. Instantly! Animate.css - a bunch of plug-and-play CSS animations. CSS Scroll Effects.
Hover avec transitions – Réaliser un effet de hover progressif avec les transitions en CSS3. Création d'un hover progressif Un hover progressif ?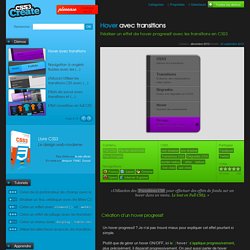 Je n'ai pas trouvé mieux pour expliquer cet effet pourtant si simple. Plutôt que de gérer un hover ON/OFF, ici le :hover s'applique progressivement, plus précisément, il disparait progressivement. On peut aussi parler de hover temporisé. Experimental CSS3 Animations for Image Transitions.
Framework
---