SEO Giant Strategies
Get flash to fully experience Pearltrees
Jason Taylor is the vice president of platform strategy at Usablenet . Usablenet's platform powers the mobile sites of 20% of the Fortune 1000, including Estée Lauder, Hilton, Delta, Victoria's Secret, FedEx, ASOS and others. Follow @Usablenet on Twitter. Google's Eric Schmidt recently noted that mobile search is growing much faster than desktop search . As mobile increasingly becomes a primary gateway to the Internet, it is crucial for companies to incorporate forward-thinking SEO practices into their mobile strategies to ensure their mobile sites are easily detected by search engines and found by consumers. More than 60% of consumers search for brands from mobile devices before purchasing, and another 49% of mobile searchers made a mobile purchase in the past six months.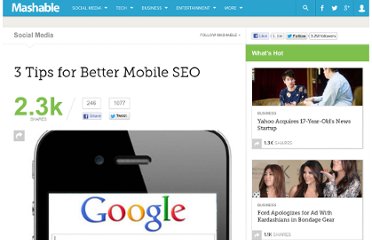 This is David Byrne week. There is an important content marketing lesson to be learned from the Talking Heads front man and Rock and Roll Hall of Fame inductee, but first some background. On Sunday, I caught the sensational David Byrne and St. Vincent show at the Orpheum Theater with my friend, HubSpot CEO Brian Halligan .
There are hundreds of different job categories- each with its own necessary modus operandi. A landscape designer or wedding caterer can't realistically decide to take a long summer holiday, just as a Wall Street day trader shouldn't take up flexible hours. But remember, regardless of your occupation, we all grew up recognizing a renewed sense of dedication in the fall, following a summertime desire for freedom, and those habitual inclinations will never fully cease to exist. As the ubiquity of the Internet pervades, shifts in the workplace open up opportunities for mobile working, giving us freedom to be productive.
Earlier this year http://babelfish.yahoo.com was shut down. The Pipes translate module relied on this service and has also been deprecated. Pipe developers have been looking for a solution to this gap. One of the available free solutions we've been … more