Statistics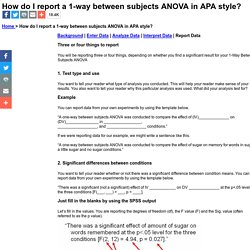 Three or four things to report You will be reporting three or four things, depending on whether you find a significant result for your 1-Way Betwee Subjects ANOVA
How do I report a 1-way between subjects ANOVA in APA style?
Handbook of Biological Statistics: Introduction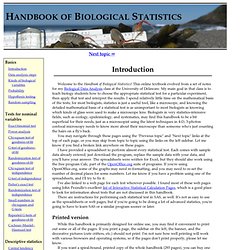 Welcome to the Handbook of Biological Statistics ! This online textbook evolved from a set of notes for my Biological Data Analysis class at the University of Delaware.
Statistics Glossary: L
Lack of Fit. For certain designs with replicates at the levels of the predictor variables, the residual sum of squares can be further partitioned into meaningful parts which are relevant for testing hypotheses. Specifically, the residual sums of squares can be partitioned into lack-of-fit and pure-error components.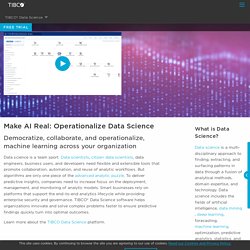 Handbook of Biological Statistics: Data transformations
Many biological variables do not meet the assumptions of parametric statistical tests: they are not normally distributed , the variances are not homogeneous , or both. Using a parametric statistical test (such as an anova or linear regression) on such data may give a misleading result.