Cooking
Healthy. Happy. Life. | Vegan Blog | Vegan Recipes - StumbleUpon. No Bake Granola Cakes — Healthful Pursuit - StumbleUpon. Big changes are happening over on my workouts page and even bigger changes are happening with my marathon training plans.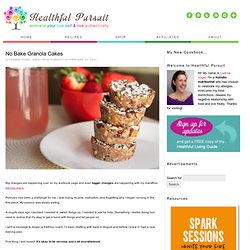 February has been a challenge for me, I was losing muscle, motivation, and forgetting why I began running in the first place. My passion was slowly exiting. Homemade Protein Bars &171; askGeorgie.com - StumbleUpon. There are plenty of reasons to make your own protein bars.
First, it's economical ! You'll save a lot of money, particularly if you have a habit of buying single bars one a time. Even better, you can customize your bars to your taste preferences, avoid any allergens, and leave out ingredients you don't want. You can make a bar with high quality protein, whole grains, real nuts or fruit, flaxseeds, whichever sweetener you prefer, and skip all the long-named chemical ingredients (preservatives and fortifications) that you may not need or want in your snack. Stacy Stowers - StumbleUpon. There's a very good reason why it's called the Happy Shake!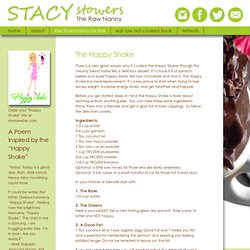 Though this creamy blend tastes like a delicious dessert, it's chock-full of spinach, berries and super happy foods, like raw chocolate and maca. The Happy Shake is a meal replacement. The best detox foods to look great - StumbleUpon. Having a diet rich in detox foods will naturally help your health.
But some of those foods are especially good to make you look great. Eating more of the detos foods below will not only improve your look but also support your body to detox naturally and flush out environmental toxins as well as metabolic waste. Losing weight Artichoke: One of the best detox foods for your liver, artichokes are also low in calories and contains compounds that can help lower your cholesterol levels. Lemon: Adding some lemon juice and zest to your drinking water will supply your body with over 30 detox compounds. The 29 Healthiest Foods on the Planet | Belly Bytes - StumbleUpon. Fruits 01.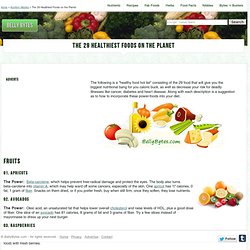 Apricots. Now youre cooking with comics. - StumbleUpon. The One Day Cleanse & Kimberly Snyder's Health and Beauty Blog. As I've always said, cleansing should be considered a verb, not a noun.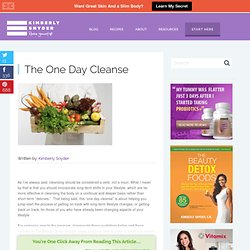 What I mean by that is that you should incorporate long-term shifts in your lifestyle, which are far more affective in cleansing the body on a continual and deeper basis rather than short-term "detoxes." That being said, this "one day cleanse" is about helping you jump-start the process of getting on track with long-term lifestyle changes, or getting back on track, for those of you who have already been changing aspects of your lifestyle For someone new to the program, incorporate these guidelines below and those outlined in The Beauty Detox Solution slowly and over time in order to avoid any drastic side effects. If you do too much too fast, your eliminating organs (liver, colon etc.) will be totally overwhelmed and overworked. This fast approach could lead to nausea, headaches and breakouts as your body begins to circulate the toxins that were previously tucked away and protected in fat.
Two really helpful food sites - StumbleUpon. Two really helpful food sites.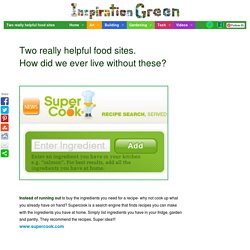 How did we ever live without these? Instead of running out to buy the ingredients you need for a recipe- why not cook up what you already have on hand?
---