Futurologists
Jamais Cascio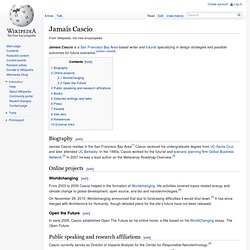 Jamais Cascio is a San Francisco Bay Area-based writer and futurist specializing in design strategies and possible outcomes for future scenarios.[citation needed] Biography[edit]
Crime and Punishment discussion at Fast Company's Innovation Uncensored (video) April 2013 Bots, Bacteria, and Carbon talk at the University of Minnesota (video) March 2013 Visions of a Sustainable Future interview (text) March 2013Talking about apocalypse gets dull...all apocalypses are the same, but all successful scenarios are different in their own way. The Future and You! interview (video) December 2012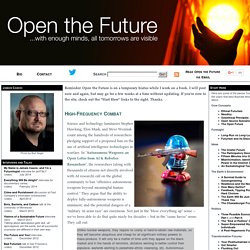 Jamais Cascio on tools for a better world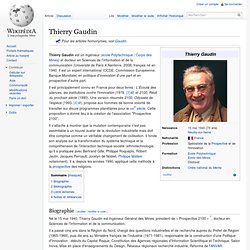 Un article de Wikipédia, l'encyclopédie libre. Pour les articles homonymes, voir Gaudin. Thierry Gaudin Il est principalement connu en France pour deux livres : L'Écoute des silences, les institutions contre l'innovation (1978, [3]) et 2100, Récit du prochain siècle (1990).
Les livres de Thierry Gaudin téléchargeables gratuitement aux "classiques des Sciences sociales" L'impératif du vivant , Éditions de l'archipel, 2013 ; L'Empreinte de la technique. Ethnotechnologie prospective , Colloque de Cerisy 2009, coordonné avec Élie Faroult, L'Harmattan, 2010 ;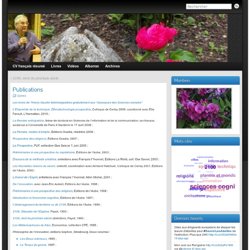 Par Daniel Kaplan le 25/03/04 | 2 commentaires | 1,894 lectures | Impression Thierry Gaudin (http://www.gaudin.org), prospectiviste, président de Prospective 2100 (http://2100.org) a impressionné l'auditoire des dernières rencontres d'Autrans lors de sa conférence inaugurale. En mettant en perspective les questions de bien communs publics, de coopération et d'appropriation sociale, il a proposé quelques thèmes de réflexion qui devraient nous accompagner longtemps : celui de la société de la reconnaissance (plutôt que de la connaissance), celui de la place des "communs" et de la propriété intellectuelle et celui des "crises" passées et à venir de la société de la connaissance.Ce compte rendu fait suite à celui que nous avons consacré à Christian Huitema, également intervenant aux rencontres 2004 d'Autrans.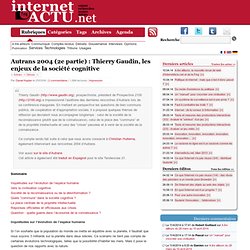 Autrans 2004 (2e partie) : Thierry Gaudin, les enjeux de la société cognitive
Thierry Gaudin, Prospective des religions. Éditions Ovadia, 2007
"Religion : changer de scénario". Entretien avec Thierry Gaudin. Propos recueillis par François L'Yvonnet. Et si nous prenions du recul ? L'entretien ci-dessous va nous y aider : à la lumière de l'histoire, il nous propose de cesser de considérer les religions et les spiritualités seulement comme des croyances fermées.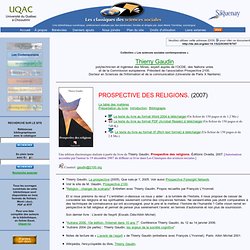 Juan Enriquez | Profile on TED.com
STARTING WITH THEIR GROUND-BREAKING BOOKS FUTURE SHOCK and The Third Wave, Alvin and Heidi Toffler's global bestsellers have helped multi-millions around the world anticipate tomorrow. Focusing on families and finance, media and military, businesses and bureaucracies, the Tofflers prepare us for the sweeping changes rushing toward us all. As Time magazine puts it, they "set the standard by which all subsequent would-be futurists have been measured."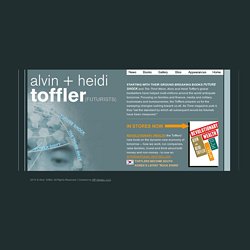 Futurism Articles and Resources from EnlightenNext
Futurist Speaker Thomas Frey – Celebrity Keynote, Futurologist, Writer, & Author, of Future Trends & Emerging Technology
Author of the 2011 book "Communicating with the Future," Futurist Speaker Thomas Frey is a powerful visionary who is revolutionizing our thinking about the future. "The greatest value in understanding the future comes from spotting the major cultural, demographic, societal, and economic shifts early and translating them in to viable business strategies," says Tom. Thomas continually pushes the envelope of understanding as part of the celebrity speaking circuit by creating fascinating images and understandings of the world to come.
2013 has been a year of considerable change for both me and the rest of our team at the DaVinci Institute. While most of what you see here on Futurist Speaker is about my research, thinking, and philosophy on the future, I thought this might be a good time to step back and fill you in on the people behind everything you're reading. The core staff at the Institute consists of Deb Frey (my wife), Jan Wagner, Nancy Slattery, and Steve Campbell.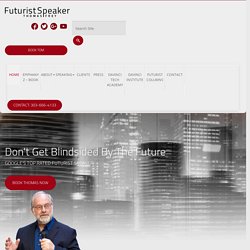 12 Laws of the Future For several decades now I have been contemplating our relationship with the future. Many of my colleagues think of me as that crazy guy who assigns human attributes to this thing we call the future.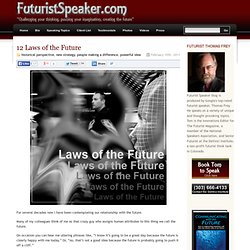 The personal blog of Futurist Thomas Frey » Blog Archive » 12 Laws of the Future
Category:Futurologists
Danila Medvedev profile -- Accelerating Future
Danila Medvedev
Danila Andreevich Medvedev (Russian: Данила Медведев) (born March 21, 1980 in Leningrad (now Saint Petersburg)) is a Russian futurologist and politician. Specialising in the science and future of Russia, Medvedev serves as a member of the coordination council of the who serves as a membe Russian Transhumanistic Movement. In May 2005 he helped found KrioRus, the first cryonics company outside of the United States.[1] Since August 2008, he has worked as Chief Planning Officer and Vice-President of the Science for Life Extension Foundation, based in Moscow.
KINGSLEY L. DENNIS | Writer, Researcher, Alternative Futurist