Magick
Magick studies. Magical Wood Properties and the Magical Properties of Wood by DragonOak. Feminine energy.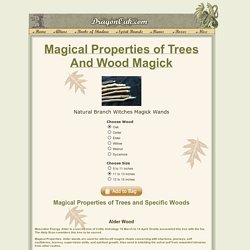 Elder is a sacred tree of Celtic Astrology 25 November to 23 December. The Elder is also said to be the tree used in the crucifixion of Christ. Associated with the Celt Goddess Cailleach Beara and the Raven. Some have considered this tree to be unlucky due to its association with the crucifixion, or it may one of those nasty rumors started by the church in order to combat belief systems outside their on scope of a limited belief system. Magical Properties: Elder wands are most often used in Faerie Magic, banishment, magical arts, protection from evil, imagination, change, and healing. Chants, Blessings, Prayers and Charms.
A Spell to Cast Away Darkness Belisama Fire 2001 In the center of the darkest storm, Is a brilliant rainbow, bright and warm.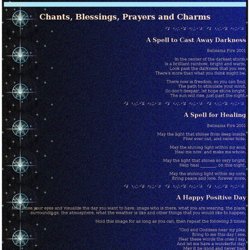 Witchcraft World - Witchcraft Spells. Wiccan Spells Spells are used in witchcraft to channel the power of the Wiccan God and Goddess to initiate positive change and for resolution of problems.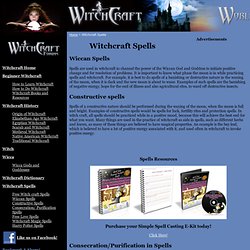 It is important to know what phase the moon is in while practicing spells and witchcraft. For example, it is best to do spells of a banishing or destructive nature in the waning of the moon, when it is dark and the new moon is about to wane. Welcome to Faeries and Enchantment | FAE Magazine ® A Picture of the Fairy Kingdom. This is a picture of the Fairy Kingdom.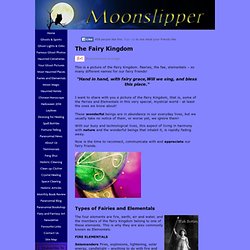 Faeries, the fae, elementals – so many different names for our fairy friends! "Hand in hand, with fairy grace,Will we sing, and bless this place. " I want to share with you a picture of the Fairy Kingdom, that is, some of the Fairies and Elementals in this very special, mystical world - at least the ones we know about! These wonderful beings are in abundance in our everyday lives, but we usually take no notice of them, or worse yet, we ignore them!
With our busy and technological lives, this aspect of living in harmony with nature and the wonderful beings that inhabit it, is rapidly fading away. The Honey Jar Family of Magic Spells. The Honey Jar Spell is one of the oldest forms of bottle spell in the world.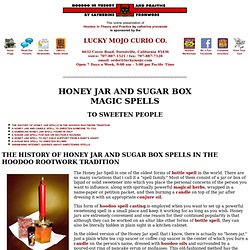 There are so many variations that i call it a "spell family. " Most of them consist of a jar or box of liquid or solid sweetener into which you place the personal concerns of the person you want to influence, along with spiritually powerful magical herbs, wrapped in a name-paper or petition packet, and then burning a candle on top of the jar after dressing it with an appropriate conjure oil. This form of hoodoo spell casting is employed when you want to set up a powerful sweetening spell in a small place and keep it working for as long as you wish.
---