Leadership intégral
Power and Love by Adam Kahane | Berrett-Koehler Publishers
ShareThis A new approach, proven in the field, for making progress on our most important and difficult collective challenges Based on Kahane's first-hand experiences working with teams of business, government and civil society leaders around the world Profound, personal and practical The two main ways that people try to solve their toughest group, community and societal problems are fundamentally flawed. They either push for what they want at all costs—in its most extreme form this means war—or try to completely avoid conflict, sweeping problems under the rug in the name of a superficial "peace." But there is a better way: combining these two seemingly contradictory approaches.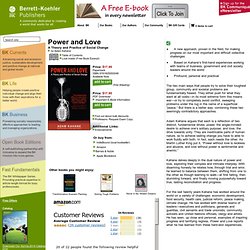 Conscious Business, Fred Kofman, Authetic Learning, Authentic Li
A l'heure où les tensions entre ces deux pôles n'ont de toute évidence jamais été aussi fortes, une réponse à cette question est à la fois urgente et vitale, tant elle semble influer sur le maintien du lien social, et de ce fait la pérennité de nos sociétés. Comment faire ? Fred Kofman nous invite à réconcilier et organiser les potentialités offertes à l'être humain, en considérant l'entreprise comme une communauté humaine consciente, c'est-à-dire combinant et équilibrant les valeurs émotionnelles, morales, mentales et spirituelles qui la constituent. Rapprochant les approches occidentales et orientales, croisant recherches spirituelles et sciences cognitives, Fred Kofman propose un modèle clair et puissant, une vision globale de la quête intelligente du bonheur, susceptible de réconcilier et d'organiser de très différentes perspectives.
L'entreprise consciente : Comment créer de la valeur sans oublie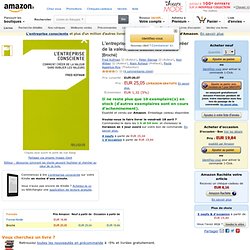 Axialent: Five Archetypes of Organizational Culture | Stanford V
Home | Integral Institute
Retreats
AXIALENT
Spiral Dynamics Integral (SDi)
The Heart and Soul of the Spiral Dynamics Movement Welcome to Spiral Dynamics Integral (SDi), the remarkable body of work attracting a growing constellation of thousands of people around the world. Spiral Dynamics Integral, or SDi for short, concerns itself with the deep complexity codes that shape our many worlds.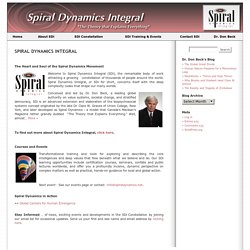 America's Evolutionary Evangelists