Spirituality
Learning Meditation Home Page
Our Pledge to Privacy Learning Meditation.com values the trust its visitors place in it. To honor this trust, Learning Meditation.com follows the highest standards and guidelines when using and safeguarding customer information that is given to the company. Collection and Use of Customer Information Learning Meditation.com does not rent, sell or exchange personal information about its customers.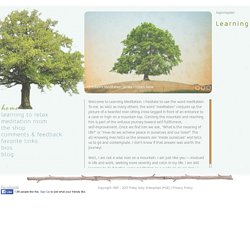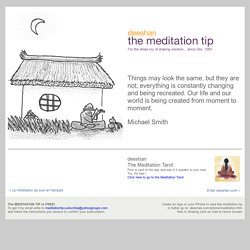 The Meditation Tip of the Day. Daily Wisdom
What is Meditation? Answers from Osho email deeshan Children's books of magical stories for kids of all ages. Click to read the first story Uncle Mago
+ New .COMs $7.49/yr plus 18 cents/yr ICANN fee. Discount based on new one-year registration prices as of 4/8/2011 with sale price reflected in your shopping cart at checkout. Discount applies to new registrations and renewals and cannot be used in conjunction with any other offer or promotion.
The Potter's House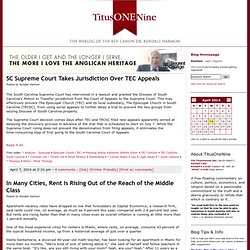 Posted by Kendall Harmon The South Carolina Supreme Court has intervened in a lawsuit and granted the Diocese of South Carolina's Motion to Transfer jurisdiction from the Court of Appeals to the Supreme Court. This may effectively prevent The Episcopal Church (TEC) and its local subsidiary, The Episcopal Church in South Carolina (TECSC), from using serial appeals to further delay a trial to prevent the two groups from seizing Diocese of South Carolina property.
TitusOneNine
(in)courage — home for the hearts of women
Perichoresis
Dr. C. Baxter Kruger, theologian, writer and fishing lure designer is the Director of Perichoresis Ministries. Baxter is a native of Prentiss, Mississippi. He and his wife Beth have been married for 30 years and have 4 children. A life long student of psychology, Baxter has a degrees in political science, divinity, and earned his Doctor of Philosophy from Kings College, Aberdeen University in Aberdeen, Scotland under Professor James B.
Spiritual Nurture and Support for Contemplative Living What we do... The Sanctuary Foundation for Prayer touches many lives - those searching for answers, those looking for more, and those who have felt the call of Grace in their lives and long to go deeper. The Sanctuary offers living water to thirsty souls, as we help people connect with the Source of life, deepen and expand their relationship with God, and enjoy the fruits of that communion in their lives, churches, families, and communities. If You...​-Yearn for "more" more peace, love, joy.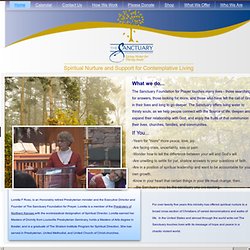 The Sanctuary - Foundation for Prayer
The Lectionary Page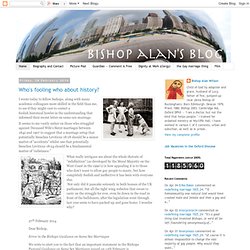 Kwame Anthony Appiah is a Ghanaian Cambridge / Princeton historian who has examined how moral revolutions happen. He studied practices like duelling, slavery, and footbinding in China. Moral practice does not develop in straight lines, but by a process of subterranean build up followed by swift surface disruption. What seemed unthinkable suddenly, over a single generation, becomes the social norm.
Bishop Alan's Blog
Anglican Centrist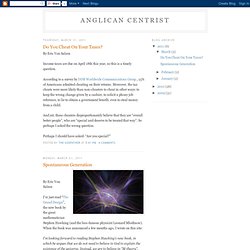 By Eric Von Salzen I've just read "The Grand Design", the new book by the great mathematician Stephen Hawking (and the less-famous physicist Leonard Mlodinow). When the book was announced a few months ago, I wrote on this site: I'm looking forward to reading Stephen Hawking's new book, in which he argues that we do not need to believe in God to explain the existence of the universe. Instead, we are to believe in "M-theory", which involves 11 space-time dimensions, "vibrating strings, ... point particles, two-dimensional membranes, three-dimensional blobs and other objects that are more difficult to picture and occupy even more dimensions of space." Boy, that's a relief!
Sacred Space » Homepage