Spirituality
Learning Meditation Home Page. The Meditation Tip of the Day. Daily Wisdom.
Episcopal Church
The Potter's House. TitusOneNine. Posted by Kendall Harmon The South Carolina Supreme Court has intervened in a lawsuit and granted the Diocese of South Carolina's Motion to Transfer jurisdiction from the Court of Appeals to the Supreme Court.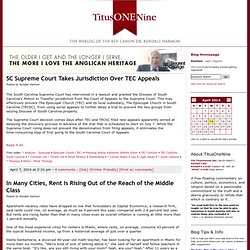 This may effectively prevent The Episcopal Church (TEC) and its local subsidiary, The Episcopal Church in South Carolina (TECSC), from using serial appeals to further delay a trial to prevent the two groups from seizing Diocese of South Carolina property. (in)courage — home for the hearts of women. Perichoresis. The Sanctuary - Foundation for Prayer. The Lectionary Page. Bishop Alan's Blog. Anglican Centrist. Sacred Space » Homepage.
---