Brand Management
books.google.fr - Adopted internationally by business schools, MBA programmes and marketing practitioners alike, The New Strategic Brand Management is simply the reference source for senior strategists, positioning professionals and postgraduate students. Over the years it has not only established a reputation as one...http://books.google.fr/books/about/The_New_Strategic_Brand_Management.html?hl=fr&id=8PoItiB7bicC&utm_source=gb-gplus-shareThe New Strategic Brand Management Page vi Creating and Sustaining Brand Equity Long Term Jean-Noël Kapferer. 4. From private labels to store brands 65 Evolution of the distributor's brand 66; Are they brands like the others?
The New Strategic Brand Management ...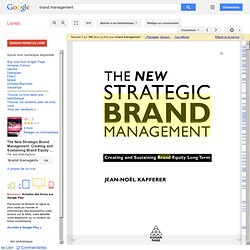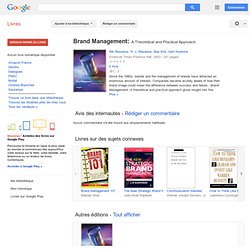 Since the 1980s, brands and the management of brands have attracted an enormous amount of interest. Companies became acutely aware of how their brand image could mean the difference between success and failure . Brand Management: A theoretical and practical approach gives insight into this phenomenon, moving from the history of the brand to how to develop, manage and protect brands. Brand Management: A theoretical and practical approach
Brand management: a theoretical and ...
Journal of Brand Management
Plus How Brands Become Icons.In the new book, How Brands Become Icons: The Principles of Cultural Branding, Holt has examined the stories behind these and other iconic brands and ...www.entrepreneur.com/tradejournals/article/131356523.html The Problem with Viral Branding - HBS Working KnowledgeExcerpted from How Brands Become Icons: The Principles of Cultural Branding by Douglas B. Holt. Copyright 2004 Harvard Business School Publishing. ...hbswk.hbs.edu/archive/4499.html
How brands become icons: the ...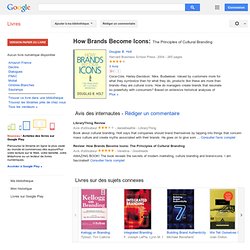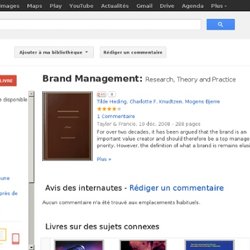 For over two decades, it has been argued that the brand is an important value creator and should therefore be a top management priority. However, the definition of what a brand is remains elusive. This comprehensive textbook presents the reader with an exhaustive analysis of the scientific and paradigmatic approaches to the nature of brand as it has developed over the last twenty years. Taking a multi-disciplinary approach and offering an exhaustive analysis of brand research literature, it delivers a thorough understanding of the managerial implications of these different approaches to the management of the brand.
Brand Management: Theory and Practice
Harvard business review on brand ...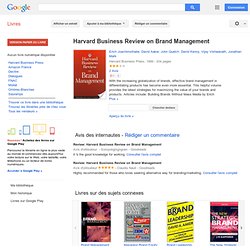 Since 1984, Harvard Business School Press has been dedicated to publishing the most contemporary management thinking, written by authors and practitioners who are leading the way. Whether readers are seeking big-picture strategic thinking or tactical problem solving, advice in managing global corporations or for developing personal careers, HBS Press helps fuel the fire of innovative thought. HBS Press has earned a reputation as the springboard of thought for both established and emerging business leaders.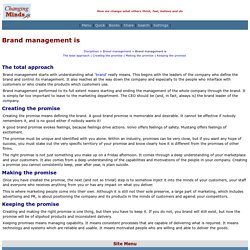 Brand management is
Disciplines > Brand management > Brand management is The total approach | Creating the promise | Making the promise | Keeping the promise The total approach Brand management starts with understanding what ' brand ' really means.
How to brand you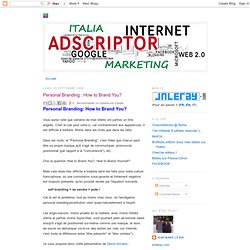 Personal Branding: How to Brand You? Vous aurez noté que certains de mes billets ont parfois un titre anglais. C'est le cas pour celui-ci, car contrairement aux apparences, il est difficile à traduire. Moins dans les mots que dans les faits. Dans les mots, le "Personal Branding", c'est l'idée que chacun peut être sa propre marque qu'il s'agit de communiquer, promouvoir, positionner (par rapport à la "concurrence"), etc.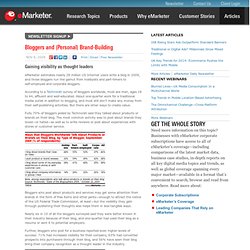 Bloggers and (Personal) Brand-Building
eMarketer estimates nearly 28 million US Internet users write a blog in 2009, and those bloggers run the gamut from hobbyists and part-timers to self-employed and corporate bloggers. According to a Technorati survey of bloggers worldwide, most are men, ages 18 to 44, affluent and well-educated. About one-quarter work for a traditional media outlet in addition to blogging, and most still don't make any money from their self-publishing activities. But there are other ways to create value.
Social Media Today | Three Keys You Need to Know About Personal
cartoon by @gapingvoid There is an awful lot of conversation about personal branding these days — books, blogs, social media, webinars, conferences, etc. And a lot of what they all say is important. I was talking with my friend Stephanie A.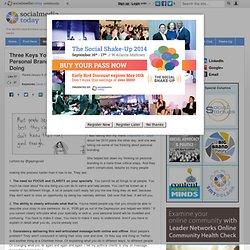 Like everyone else I've watched the print media world fall apart over the last few years. The poster child for that industry is the New York Times, of course, and their many missteps in recent memory have been well chronicled. In early 2008 Marc Andreessen started a New York Times Deathwatch, and the company's financial performance has degraded since then. I keep wondering what would happen if the top 10% of the writers at the NYTimes just…walked out. I know it's crazy, but let's just explore this a bit for the heck of it.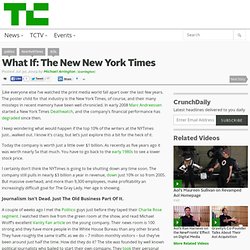 What If: The New New York Times