Infographics
Cool Infographics 2011 Gallery. Focus-mindmap-for-web.jpg 1,220×889 pixels. Social Media in the UK: Statistics. — Digital Fingerprint. Protecting Your Online Reputation: 4 Things You Need to Know. You don't have to be running for president to care about your online reputation.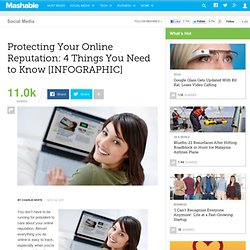 Almost everything you do online is easy to track, especially when you're using social media sites. This infographic shows you how to manage your "e-reputation," perhaps saving you some embarrassment, or even your career. Gathered by digital marketing firm KBSD, it's a treasure trove of tips, techniques and information about what companies and individuals are looking for inside your personal profiles and social information, and what you can do to show off your best side to those who might want to find out unflattering things about you. How Recruiters Use Social Networks to Screen Candidates. Over the past few years, we've seen social media used in the job market in a number of ways — startups, small businesses and large corporations alike are diving into the socialverse to find top talent, and job seekers are likewise getting creative with social media.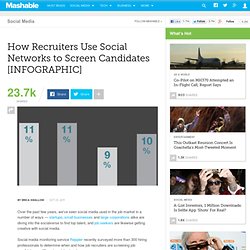 Social media monitoring service Reppler recently surveyed more than 300 hiring professionals to determine when and how job recruiters are screening job candidates on different social networks. The study found that more than 90% of recruiters and hiring managers have visited a potential candidate's profile on a social network as part of the screening process. How Cellphones Shape the Lives of College Students [INFOGRAPHIC] The majority of college students today use smartphones — although three-quarters don't foot their own bills.
Not surprisingly, this has changed the classroom dynamic. Some 88% text during class; 40% use their phones for last-minute test prep; and a quarter take their devices out during each class. This infographic, created by HackCollege, delves into the intricacies of how college students in the U.S. use their mobile devices. The leading two operating systems are Android and Apple's iOS, holding an almost equal market share of 43% and 42% respectively.
---