Infographics
Get flash to fully experience Pearltrees
UMPF recently conducted research with "Your Say Pays, where we asked nearly 2,400 UK adults which social media platforms they used and how often." With a UK adult population of 48.6 million, they found that ( full statistics Google spreadsheet ):
You don't have to be running for president to care about your online reputation.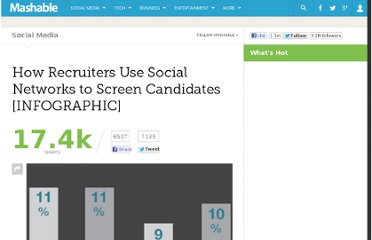 Over the past few years, we've seen social media used in the job market in a number of ways — startups , small businesses and large corporations alike are diving into the socialverse to find top talent, and job seekers are likewise getting creative with social media. Social media monitoring service Reppler recently surveyed more than 300 hiring professionals to determine when and how job recruiters are screening job candidates on different social networks. The study found that more than 90% of recruiters and hiring managers have visited a potential candidate's profile on a social network as part of the screening process.
The majority of college students today use smartphones — although three-quarters don't foot their own bills.