Future
How to Build Innovative, Next-Generation Products Before Anyone Else Does. Put yourself entirely into the mind of a consumer (except slightly in the future): How they will think.How they will feel.What your business will look like from their POV.How your product will seem from their POV.What they truly desire.What would make their life easier, simpler, or more enjoyable?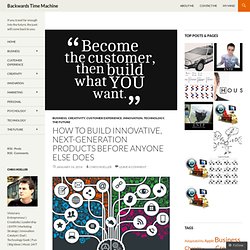 Completely "become the customer" in your mind. Forget about reports, stocks, the shareholders, the technical limitations, and the cost. For a significant amount of time, try and see everything through their eyes, not through the experienced eyes of an experienced businessman. A Rough Start… These days, Disney pools in billions from merchandise, movies and theme parks round the world; however the filmmaker himself had a little rough beginning.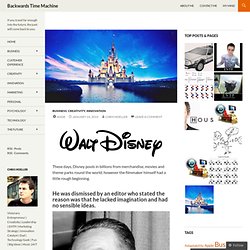 He was dismissed by an editor who stated the reason was that he lacked imagination and had no sensible ideas. Subsequently, Walt Disney started variety of companies that didn't last too long and all over was surrounded with bankruptcy and failure. He eventually found a direction for success that worked… Like this:
Complexity and Systems. Artificial Intelligence. Automobiles. Business. Education. Robots. Space. Society. Technology.
---