Hacks.Dox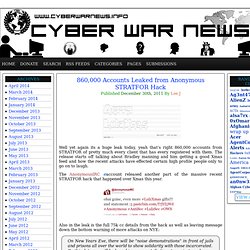 Well yet again its a huge leak today, yeah that's right 860,000 accounts from STRATFOR of pretty much every client that has every registered with them. The release starts off talking about Bradley manning and him getting a good Xmas feed and how the recent attacks have effected certain high profile people only to go on to laugh. The AnonymousIRC account released another part of the massive recent STRATFOR hack that happened over Xmas this year. Also in the leak is the full 75k cc details from the hack as well as leaving message down the bottom warning of more attacks on NYE: On New Years Eve, there will be "noise demonstrations" in front of jails and prisons all over the world to show solidarity with those incarcerated.
Stratfor.860,000.Leaked.Accounts
Anonymous has posted what appear to be login details for Israeli SCADA industrial-control systems, a cyberattack that marks the politically minded group's entrance into the heated battle between Israeli and Saudi Arabian hackers that has already exposed thousands of credit card number and personal details.
Anonymous Shows How to Hack Into Israeli Power Stations - Technology & science - Security
Building.lights.hack
Hackers shut down Tel Aviv Stock Exchange, El Al websites