DIY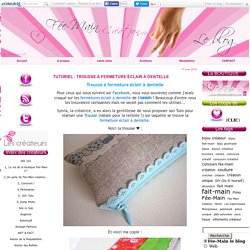 Tutoriel : Trousse à fermeture éclair à dentelle Trousse à fermeture éclair à dentelle Pour ceux qui nous suivent sur Facebook , vous vous souvenez comme j'avais craqué sur les fermetures éclair à dentelle de I-bêêêh ? Beaucoup d'entre vous les trouvaient ravissantes mais ne savait pas comment les utiliser... Sylvia, la créatrice, a eu alors la gentillesse de nous proposer son Tuto pour réaliser une Trousse (idéale pour la rentrée !)
Tutoriel : Trousse à fermeture éclair à dentelle - Fée-Main le blog!
unnamed pearl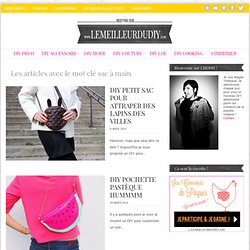 Sac à Main | Le Meilleur Du DIY
DIY Le plus beau des petits sacs en papier Il est MA-GNI-FIQUE, se réalise en quelques minutes, avec une paire de ciseaux, j'ai nommé Le plus joli des petits sacs en papier ! Il parait presque compliqué à réaliser lorsqu'on le voir tout fait mais en fait sa réalisation est d'une extrême simplicité. Personnellement je le réaliserais en un format plus grand. Et vous,... DIY Petit pochon mignon
(vintage romper, river island feather headband) I've been wanting an oversized clutch for a while now, especially since I laid eyes on that Celine clutch shot by Tommy Ton for style.com . Its minimalism is so beautiful. Then, I saw the Clare Vivier La Pochette on ofakind.com and instantly knew what my next DIY would be.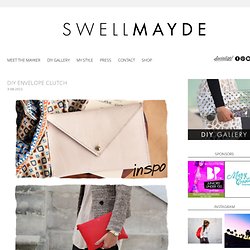 I called this "faux" braided because it looks like your typical braid, but actually isn't. I've had this idea in my mind for a while; I've been contemplating ways to use thin metal bangles that I never use anymore. When the crew at Lion Brand asked me if I'd like to try out some of their yarn, I saw that they had this really interesting "ribbon yarn" and knew it would be perfect for this project. I love trying out new materials that aren't common (or that I haven't used before) so thank you to Lion Brand for letting me try it out! Of course, after I made the first bracelet, I had to go digging through my stash and try it out with some leather cord and satin ribbon. I also love how this particular way of wrapping and weaving creates a subtle chevron look.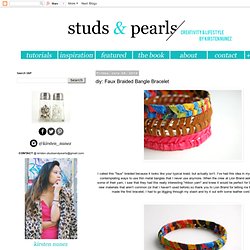 Faux Braided Bangle Bracelet
I know summer is barely over, but I can't stop thinking about autumn. It's my favorite season, so of course my collection of scarves has been slowly growing. For the past couple of months, I've been trying to figure out ways to organize my room and closet. This is one solution, at least for the scarves! It's also super inexpensive to make. See how I made it below: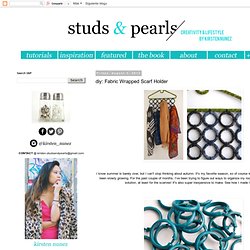 Fabric Wrapped Scarf Holder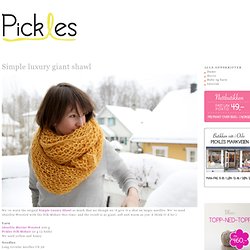 Simple luxury giant shawl
We´ve worn the orignal Simple Luxury Shawl so much that we though we´d give it a shot on larger needles. We´ve used Abuelita Worsted with the Silk Mohair this time, and the result is as giant, soft and warm as you´d think it´d be:) Yarn Abuelita Merino Worsted 200 g Pickles Silk Mohair 50 g (2 balls) We used yellow and honey Needles Long circular needles US 36 Gauge 4 s=4" Measurements Height 39" Width 106"
HALTER GOWN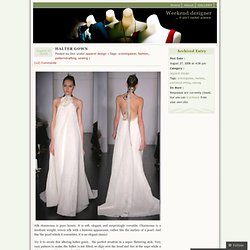 Silk charmeuse is pure luxury. It is soft, elegant, and surprisingly versatile. Charmeuse is a medium weight, woven silk with a lustrous appearance, rather like the surface of a pearl.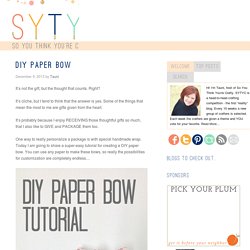 Copyright Info © 2011 by Missy Harding. You're more than welcome to link to this site or use an image and brief description to link back to any post.
Season 3 Tutorials | So You Think You're Crafty
This is such an easy dress to make that it only takes 2 hours! I made it more than a year ago from fabric I bought at JoAnn's for $2 per yard. The fabric is a light weight knit without much stretch at all. The dress is really versatile. It can be worn alone or over pants and a shirt.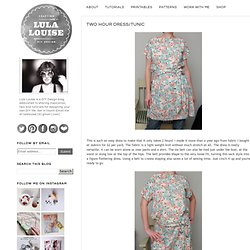 Lula Louise: Two Hour Dress/Tunic
Whip Up Tutorials
Lark Craft's upcoming book Heart-Felt Holidays: 40 Festive Felt Projects to Celebrate the Seasons is the follow-up to Fa La La La Felt. The book comes out in April, but Lark Crafts are starting the fun early by offering this Mushroom love brooch project by Lisa Jordan . Mushroom love brooch project by Lisa Jordan
smaller: Small craft- Zsa mask
We are really excited about this cool hat project! It's easy enough for even a beginner like me to make so I am going to try and get one done for Christmas. You can find other great projects and get some crafting inspiration from the prolific and talented Dutch blogger- Mme ZsaZsa. Although the design looks complicated, it's actually just a piece of knitted fabric with the sides stitched together. The ears don't have to be knitted but are shaped by wearing the hat, and the eyes are openings made by casting stitches off in one row and casting them back on in the next row.