Inspiration
Ascender: Megan Sheerin Identity
EL PAÍS ‹ Sciammarella.es
It is common knowledge that filing accident at work claims is a tedious and long process. However, it can become a stress-free one if you engage the services of the appropriate injury claims solicitor to handle your case. You can make an injury claim, (both mental and physical) if it was as a result of your employer's negligence, workmate or some other individual at your place of work, or due to absence of workplace safety measures. accident claims advice When you sustain an injury at your place of work, on holiday, on public transport or wherever it happens, you should always deal with it as though you are going to make a injury claim for damages payout.
Gifted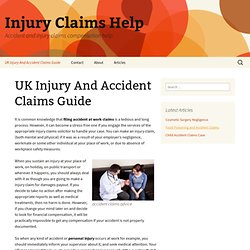 Lumburr is a lifestyle brand of handcrafted products built around a day at the park - riding bicycles, playing kubb, and lounging on wool blankets. We strive to create products that promote well being throughout their life-cycle; from material collection, to manufacturing, to use and finally to end-of-life. Infused with Canadiana and a hint of Swedishness, Lumburr products exude craftmanship and quality. Natural locally sourced materials were selected to create a product experience that can't be matched with man-made materials and mass-production.
Identity
最近、テレビCMやまた石川遼選手が愛用しているとして話題になっている英会話レッスンの教材として、スピードラーニングというものがあります。その名からしてあっという間に英会話が上達しそうな教材ですが、実際のところ、どんな英会話教材なのでしょうか。スコットペリーのリスニングパワーという教材のライバルにあたるかもしれません。いま、リスニングパワーは売れていますよ。 なんといってもスピードラーニングの最大の特徴は、辞書やテキストのない、CDによる「聞き流し」英会話レッスンであるということ。もともと日本における英会話教育は、まず単語の暗記と文法、そしてその仕組みを把握した段階で次にリスニング、会話、の順でした。
Graphic Design Portfolio of Petros Afshar
Popular All « Prev1 ... 567 ... 80Next » Video Transcript What is art? To us... art is the process.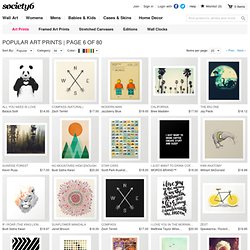 New Art Prints
Wit & Whistle » technicolor art print
a selection of graphic projects
Mr CUP Fabien Barral is a happy graphic designer whose innovative and unique designs attract clients from around the world. He runs the "graphic exchange" blog, a popular online venue for graphic designers. After years working under his own name, it is now under Mr-Cup pseudonym that he develops his own products : the first edition of the letterpress calendars in 2011 and 2012 werre a great succes... In 2013, he doesn't do an edition as he visits, with family, Thaïland, Singapore and Bali to see what life can offer and to met craftsmen to work with them on new products : collections of Helvetica letters made in wood.. He is now back in France and after seeing El calotipo work on instagram, he visits them in August 2013 to ask them to print the 2014 edition.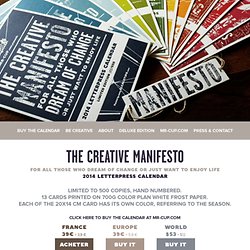 2012 Letterpress calendar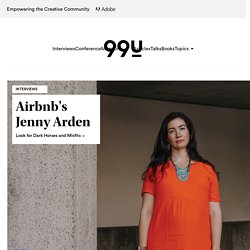 Draw the Line: Finding Your Work-Life Balance What's the thing only *you* can do well? Top Weekend Reads: The Least Valuable Colleges & Majors
Classic American Travel Posters | bumbumbum
What, Why, and How-To's of Email Newsletter for your WordPress Blog
Email Security
Silvio Teixeira
Strange natures, particular ecosystems, imaginary worlds... and also the emotional landscapes of the human nature. ><Natures estranyes, ecosistemes particulars, mons imaginaris... i a més a més paisatges emocionals de la naturalesa humana.
puckcinema.com
Dezeen Started in 2006 by the former founding editor of icon magazine, Marcus Fairs, Dezeen is one of the most popular and influential architecture and design blogs on the internet, with over two million visits a month. ~ Comments (11) ~ Visit Blog It's Nice That At the very forefront of creative design, art and inspiration, It's Nice That is a massively popular, regularly updated blog of work from studios and designers around the world and they've even expanded upon their online success with a bi-annual printed publication, exhibitions, podcasts and a curated series of talks. ~ Comments (33) ~ Visit Blog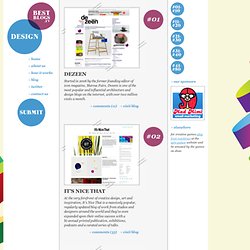 Michael Jackson Hardy Leung, July 31, 2010 Paul the Octopus Hardy Leung, July 11, 2010 Frida Kahlo Hardy Leung, July 7, 2010 Dalmatian Hardy Leung, June 8, 2010 Ada Lovelace (Computer Pioneer) Hardy Leung, May 26, 2010 Rosa Parks Hardy Leung, May 26, 2010 Eleanor Roosevelt Hardy Leung, May 26, 2010 Martin Luther King Jr.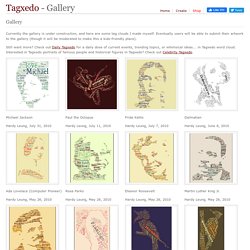 Jason Gregory's products are the intersection of creativity and usefulness. He has worked Makr into something more than just leather and canvas. Makr, at it's core, is more than just a desire to put out bags and wallets and stools. It's about challenges and the desire to create.
Gráficas minimalistas de los mejores libros! Posted by filamtropica on abril 24, 2012 · Dejar un comentario De Cervantes a Cortázar. De Nabokov a McCarthy. Una selección libérrima de títulos que merecen la pena.
Gráficas minimalistas de los mejores libros! « filamtropica
The sketchbook is—to borrow a term from the new millenniums' popular discourse—an artist's BFF. It's a diary for the visually inclined—a place where artists can most comfortably explore their personal thoughts, work out their visual needs, practice, maintain a visual history, and hopefully create the unpolished work that will eventually lead to amazing work for the world to see. But, sometimes, when we're lucky, we get to see the process. Below are 50 beautiful sketchbook scans from 35 talented artists. Allen Sutton
a selection of graphic projects