Inspiration
Ascender: Megan Sheerin Identity. EL PAÍS ‹ Sciammarella.es. Gifted. Identity. Lumburr is a lifestyle brand of handcrafted products built around a day at the park - riding bicycles, playing kubb, and lounging on wool blankets.
We strive to create products that promote well being throughout their life-cycle; from material collection, to manufacturing, to use and finally to end-of-life. Infused with Canadiana and a hint of Swedishness, Lumburr products exude craftmanship and quality. Natural locally sourced materials were selected to create a product experience that can't be matched with man-made materials and mass-production. 31 Insanely Easy And Clever DIY Projects. Graphic Design Portfolio of Petros Afshar. New Art Prints. Popular All « Prev1 ... 567 ... 80Next » Video Transcript What is art?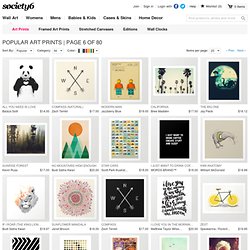 To us... art is the process. Technicolor art print. A selection of graphic projects. 2012 Letterpress calendar. The 99 Percent - It's not about ideas. It's about making ideas happen. Classic American Travel Posters. What, Why, and How-To's of Email Newsletter for your WordPress Blog. Email Security. Silvio Teixeira. Puckcinema.com. Strange natures, particular ecosystems, imaginary worlds...
And also the emotional landscapes of the human nature. ><Natures estranyes, ecosistemes particulars, mons imaginaris... i a més a més paisatges emocionals de la naturalesa humana. Home » Design Blogs, The Design Blog Top 50. Gallery. Michael Jackson Hardy Leung, July 31, 2010 Paul the Octopus Hardy Leung, July 11, 2010 Frida Kahlo Hardy Leung, July 7, 2010 Dalmatian Hardy Leung, June 8, 2010 Ada Lovelace (Computer Pioneer) Hardy Leung, May 26, 2010 Rosa Parks Hardy Leung, May 26, 2010 Eleanor Roosevelt Hardy Leung, May 26, 2010 Martin Luther King Jr.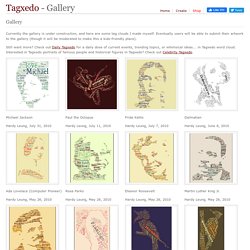 Grain & Gram — The New Gentleman's Journal. Gráficas minimalistas de los mejores libros! « filamtropica. Gráficas minimalistas de los mejores libros!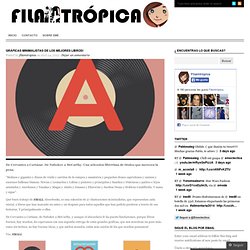 Posted by filamtropica on abril 24, 2012 · Dejar un comentario De Cervantes a Cortázar. De Nabokov a McCarthy. Una selección libérrima de títulos que merecen la pena. Sketchbook Secrets: 50 Beautiful Sketchbook Scans. The sketchbook is—to borrow a term from the new millenniums' popular discourse—an artist's BFF.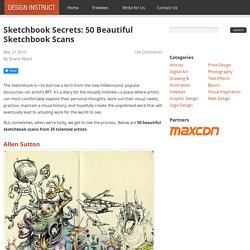 It's a diary for the visually inclined—a place where artists can most comfortably explore their personal thoughts, work out their visual needs, practice, maintain a visual history, and hopefully create the unpolished work that will eventually lead to amazing work for the world to see. But, sometimes, when we're lucky, we get to see the process. Below are 50 beautiful sketchbook scans from 35 talented artists. Allen Sutton. A selection of graphic projects.
---