Games
Free Online Game - Sausage Factory from Adult Swim. Coign of vantage | bobblebrook. Put your spatial perception into perspective with this 3d puzzle game.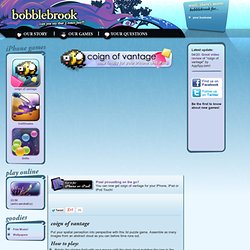 Assemble as many images from an abstract cloud as you can before time runs out. Rotate the playing field with your mouse until the pixel-cloud matches the icon in the upper right. Boomshine. Update 2.27.14 Boomshine is now available for free on Android.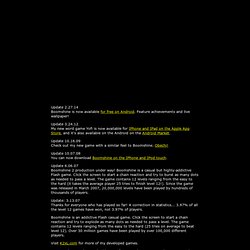 Feature achievements and live wallpaper! Update 3.24.12 My new word game Yofi is now available for IPhone and IPad on the Apple App Store, and it's also available on the Android on the Android Market. Pillage The Village. If you have a very fast system, set detail to "highest" in the options for maximum graphical fidelity.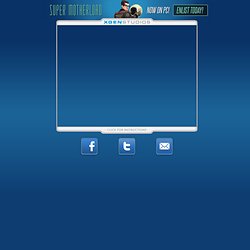 Controls Left Mouse Button: Interact with villagers and objects.Space Bar (Hold): Initiate Gesture Casting for spells.Number Keys (1-8): Hotkeys for the cooresponding spell slots on your spell toolbar.Cursor Keys Up and Down (or "W" and "S"): Move the object you are holding back and forth in depth (Optional). " Pel. Tinygrow. Dance Monkey Dance - Free Online Games and Free Music & Photos Games from Shockwave. Save the Sheriff - Action Games at Miniclip. Plants vs Zombies™ Epic Coaster. Description *NOTE Clear your browser cache if you are having problems seeing the current version.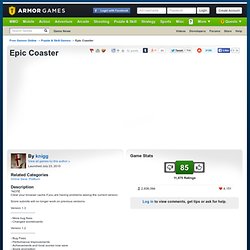 Score submits will no longer work on previous versions. Akinator, the Web Genius. Papa's Burgeria. Description In this sequel to the award-winning hit game "Papa's Pizzeria", you're headed back to the kitchen to run Papa Louie's new burger shop!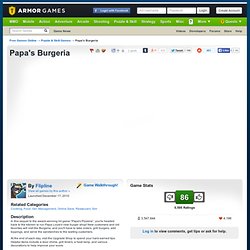 New customers and old favorites will visit the Burgeria, and you'll have to take orders, grill burgers, add toppings, and serve the sandwiches to the waiting customers. At the end of each day, visit the Upgrade Shop to spend your hard-earned tips. Doodle God. Description Doodle God puts the power of creation in your hands.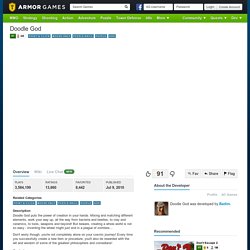 Mixing and matching different elements, work your way up, all the way from bacteria and beetles, to clay and ceramics, to tools, weapons and beyond! But beware, creating a whole world is not so easy - inventing the wheel might just end in a plague of zombies... Drench - the world's simplest flash game. Rainbow Bricks. Alter Ego. Burrito Bison | Action Games. Description Kick gummy bear butts and smash giant doors to escape the dreadful Candy Land!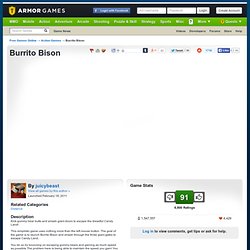 This simplistic game uses nothing more than the left mouse button. The goal of the game is to launch Burrito Bison and smash through the three giant gates to escape Candy Land. Elephant Quest | Adventure Games. Description **Please install Flash Player 10.2, this seems to be resolving some issues for people.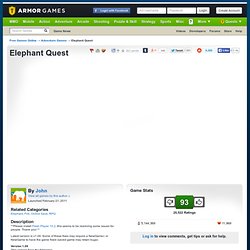 Thank you! ** Sugar, Sugar.
---