Crafts
Make a Lunch Box from a Milk Jug. DIY Woven Chain Bracelet. Chain link bracelets, with colorful threads woven through them, have been popping up here and there.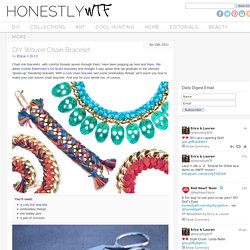 We adore Aurèlie Bidermann's Do Brazil bracelets and thought it was about time we graduate to the ultimate "grown-up" friendship bracelet. With a curb chain bracelet and some embroidery thread, we'll teach you how to make your own woven chain bracelet. And one for your bestie too, of course. You'll need:a curb link braceletembroidery threadtwo bobby pinsa pair of scissors Cut 2 sets of 15 strands of embroidery thread, with each strand measuring four times the length of the bracelet.
How to Make a Fabric Bow | Tutorial. Crayon Hearts. Simply Vintagegirl Blog » Blog Archive » Tutorial: How to Make Lovely Fabric Flowers. 29 May 2010 These elegant fabric flowers are very simple to make . . . and only take a few basic supplies.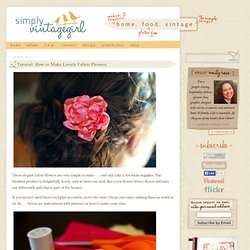 The finished product is delightfully lovely, and at times can look like a real flower! Every flower will turn out differently and that is part of the beauty! Glass Etching. Have you ever done any glass etching?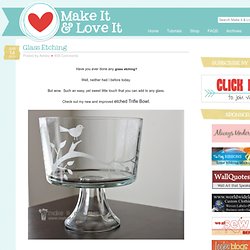 Well, neither had I before today. But wow. Such an easy, yet sweet little touch that you can add to any glass. Check out my new and improved etched Trifle Bowl. Print Hula Hoop Rug Page | Crafts. This photo originally appeared in FamilyFun Magazine Total Time 2 to 3 hours Ages school-age What does it take to transform a pile of old T-shirts into spectacular works of woven art?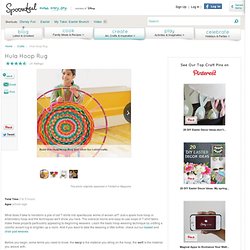 How To Make a String Tree Wall Mural Home Hacks. Previous image Next image This impressive mural (along with a few others) were made by artist Kathryn Anderson with nothing more than pushpins and yarn.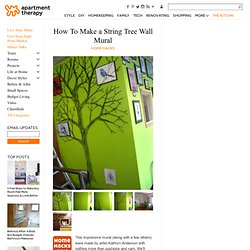 We'll show you how you can create your own, step by step and with tips from the artist.Kathryn Anderson of KAndeArt has made some great wall murals out of nothing more than string and push pins. Here are her steps to creating a beautiful and unique murals from string.
---