Yoga, Running
Thinkfood Cookbook
Well I have to admit, I've been in a bit of a funk ever since Labor Day, when my beautiful days of summer were ripped away as temperatures dropped and rain clouds appeared. Worse than the fact that I had to turn my furnace on before summer officially ended, I had to pack up all my summer beach yoga gear and say goodbye to a bunch of super cool yogis and yoginis who attended my summer beach yoga classes. My Monday morning nirvana of going to the beach to "work" is over, and all of a sudden I am back in my home office away from the sun, sand, and surf, dreaming about when and how I can get a winter beach venue lined up (hey, a girl can dream). I have since given myself a swift kick in the ass; with most things in life, I have a choice. I can choose to be sad that summer is over, or I can choose to be happy about the change in seasons.
Summer Beach Yoga - Goodbye Downward Dog Days of Summer | The Daily Downward Dog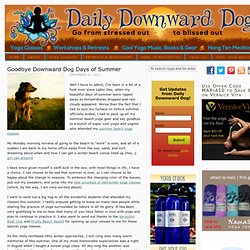 Home - Pulse Brunswick
My Yoga Online is the #1 yoga video website in the world. The original online yoga studio, established in 2004, My Yoga Online offers yoga, Pilates and wellness video classes for streaming or download. Advance your yoga practice with our renowned teachers from around the world. Reduce stress, get fit, and find your balance with yoga videos and wellness content filmed at the top studios, and festivals. Every day we share new online classes, expert articles and resources to nourish your body, mind and soul. Sign up now!