DIY
Circle Skirt From An Old Sheet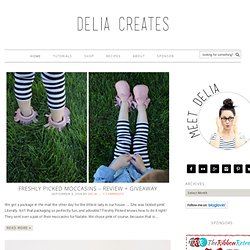 I have a fun quick tutorial for you today. It started out as an experiment.
Five Minute Brimmed Beanie
.MY DIY PROJECTS AND TUTORIALS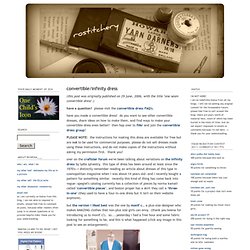 rostitchery: convertible/infinity dress
(this post was originally published on 29 june, 2006, with the title "one seam convertible dress".) have a question? please visit the convertible dress FAQ's. have you made a convertible dress?
How to Make a Circle Skirt That Fits Without a Pattern
Free Clothing Patterns, Handmade / DIY Clothing Projects - Craftster
From Teeshirt to Halter Dress : Daily source of DIY craft projects and inspiration, patterns, how-tos | Craftzine.com
The changing of the seasons doesn't mean you need to buy a whole new wardrobe. If you're too strapped for cash to invest in a new wardrobe, give your old clothes a whole new look by revamping them! Check out these creative ideas on how to look fashionably cool without draining your wallet. Revamping Old Clothes - Sweaters Does your dad have a big sweater hanging in his closet? If he no longer wears it, then put it to good use by chopping it off at mid-thigh level and cinching a wide belt around your waist.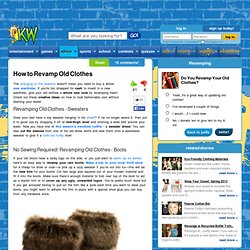 How to Revamp Old Clothes | DIY Projects | Makeover | Creative | Sewing | Sweaters | Pants | Jeans | T-Shirts | Skirts
Make a Dress from a Button-Down Shirt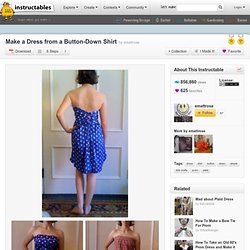 If you don't already have an old shirt you can recycle for this purpose, you should be able to find one easily at a thrift store. Hold the collar under your arms, and make sure it's long enough that you'll be comfortable wearing it as a dress. Short sleeves are ok, but make sure they're long to reach around your chest and overlap in the back. Also, try and find a shirt that has darts in the middle of the back.
Custom T-Shirts - Design Your T-Shirts Online - Free Shipping!
...love Maegan
Made By Lex » refashions
How To Make Leg Warmers or Boot Socks October 20, 2011 6:13 am Wow!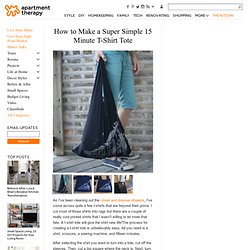 How to Make a Super Simple 15 Minute T-Shirt Tote | Apartment Therapy San Francisco
As I've been cleaning out the closet and dresser drawers, I've come across quite a few t-shirts that are beyond their prime. I cut most of those shirts into rags but there are a couple of really cool printed shirts that I wasn't willing to let meet that fate. A t-shirt tote will give the shirt new life!The process for creating a t-shirt tote is unbelievably easy. All you need is a shirt, scissors, a sewing machine, and fifteen minutes. After selecting the shirt you want to turn into a tote, cut off the sleeves.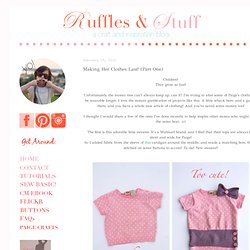 Children! They grow so fast! Unfortunately, the money tree can't always keep up, can it? I'm trying to alter some of Paige's clothing to be wearable longer. I love the instant gratification of projects like this.
Making Her Clothes Last! (Part One)
General
Logan of Supernaturale has posted instructions how to make a pair of homemade undies out of your favorite old tees. Logan says, "I know you've got them, lurking in drawers, the back of the closet, in the "giveaway" pile: those T-shirts that are, for various reasons, both unwearable and indispensable. They are too small, too big, too short, have a stain, a hole, or some other flaw, and yet you cannot bear to part with them. I took my old t-shirts and gave them new life. They were reincarnated as underwear."
Old T-Shirts Reincarnated as Underwear « Wonderment Blog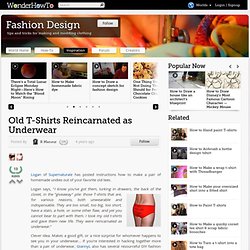 MADE: TUTORIAL: the Circle Skirt