AGENCIES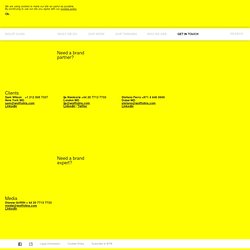 Contact - Wolff Olins
We are using cookies to make our site as useful as possible. By continuing to use our site you agree with our cookies policy. Need a brand partner? Clients Sam Wilson New York MD +1 212 505 7337 sam@wolffolins.com LinkedIn
Blog for I AM Beyond, Alternative Marketing Consultants in London
Locations | About Us | Prophet
Careers » FutureBrand
London | Designit
Creative minds for ambitious clients » Figtree Network
Locations: London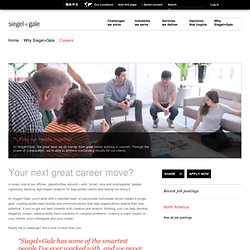 In every one of our offices, opportunities abound – with "smart, nice and unstoppable" people vigorously tackling high-impact projects for high-profile clients and having fun doing it. At Siegel+Gale, you'll work with a talented team of passionate individuals driven toward a single goal: creating world-class brands and communications that help organizations realize their true potential. If you've got our bent towards both creative and analytic thinking, you can help develop elegantly simple, unexpectedly fresh solutions to complex problems—making a major impact on your clients, your colleagues and your career.
Careers at Siegel+Gale | Siegel+Gale
Healthcare Advertising creative Campaigns
sound. sound is a creative engagement agency
Brand Communications
- : : : : WE ARE AUDACITY! : : : : -
Big_Als_Creative_Emporium
Straightedge
Guided Collective
Albion London - a digitally-minded integrated advertising agency
Frontroom
Mother London | Creative Work
Sell! Sell! - Get in touch!
Home: glue Isobar: A Modern Communications Agency
Home | Method