Coopératives
CJS - Coopératives Jeunesse de Services. Bienvenue Le projet Coopérative jeunesse de services (CJS) regroupe de douze à quinze jeunes filles et jeunes garçons âgés de douze à dix-sept ans.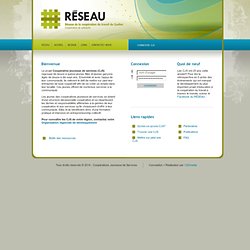 Ensemble et avec l'appui de leur communauté, ils relèvent le défi de mettre sur pied leur entreprise de type coopératif afin de se créer un emploi dans leur localité. Ces jeunes offrent de nombreux services à la communauté. Transmettre son entreprise à ses salariés - Jetransmetsamessalaries.fr. Inter-Made. Artenréel - Coopérative d'activités et d'emploi pour les métiers artistiques et culturels. Qui sommes nous ? Qui sommes nous ?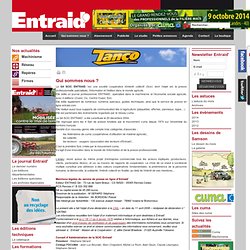 La SA SCIC ENTRAID 'est une société coopérative d'intérêt collectif (Scic) dont l'objet est la presse professionnelle spécialisée, l'information et l'édition dans le monde agricole. Elle édite un journal professionnel, ENTRAID', spécialisé dans le machinisme et l'économie sociale agricole, avec 4 éditions (Ouest, Oc, Centre Ouest, Est).
Elle édite également de nombreux numéros spéciaux, guides techniques, ainsi que le service de presse en ligne entraid.com. Elle réalise aussi tous supports de communication liés à l'agriculture (plaquettes, affiches, panneaux, logos…). Le boom de l'aspiration entrepreneuriale - Cooperer Pour Entreprendre sur Coopérer Pour Entreprendre. Copéa : Association nationale des coopératives d'activités. 3BIS : Grenoble (Isère) Une alternative à l'entreprise en solo contact@3bis.fr Site web : Née en 1999 à Grenoble, 3BIS permet à des entrepreneurs de développer leur activité dans un cadre dynamique et collectif.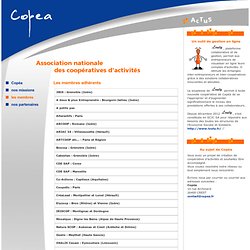 Would your football club be better run as a co-operative? What's the point of a football club?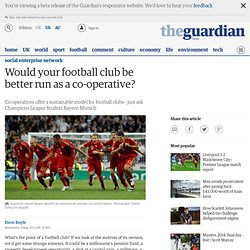 If we look at the motives of its owners, we'd get some strange answers. It could be a millionaire's pension fund, a property development opportunity, a shot at a capital gain, a millstone, a tax dodge, an ego-trip, a nest-egg, a birthday present, a promotional tool, a political tool; the list is far from exhaustive. No club was ever founded with this in mind, of course. They began life as genuine clubs, open to membership from the community of players, and later supporters, who had an interest in their success. Operative football: fan ownership back on the agenda. This summer has provided further evidence for a truth that has become unavoidable: football never sleeps.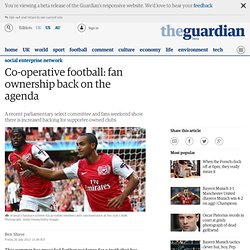 Even as Murraymania replaced the inertia that followed England's insipid exit from Euro 2012, our national game managed to shoehorn its way back into the national consciousness with the trial of the former England captain, the Rangers saga, and Sepp Blatter's cod philosophical musings on the need to avoid moral justice.
Three different stories, but all of relevance to the supporters who gathered in London earlier this month for the Fans' Weekend, organised by the Football Supporters' Federation and Supporters Direct. Over the course of the event, which included workshops on topics such as financial fair play, community shares and the supporter liaison officer project, delegates discussed and debated the best way forward for a movement that was born in 1992, when Northampton Town Supporters' Trust was formed with the express aim of preserving an ailing community asset.
Business model set for the silver-screen as major new film tells 'pioneering' story of the birth of Co-operatives. A major new film telling the 'pioneering' story of the birth of co-operatives The "inspirational" story of the birth of co-operation more than 160 years ago is to be shown in a major new feature film.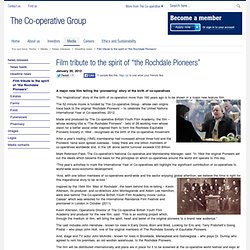 The 52 minute movie is funded by The Co-operative Group - whose own origins trace back to the original 'Rochdale Pioneers' – to celebrate the United Nations International Year of Co-operatives, 2012. Made and produced by The Co-operative British Youth Film Academy, the film – whose working title is "The Rochdale Pioneers" - tells of 28 working men whose vision for a better social order inspired them to form the Rochdale Equitable Pioneers Society in 1844 - recognised as the birth of the co-operative movement.
After a year's trading (1845) membership had increased almost three-fold and the Pioneers' fame soon spread overseas - today there are one billion members of co-operatives worldwide and, in the UK alone sector turnover exceeds £33 Billion. AIBC - ICBA. Groupe Coop (Super U, Le Mutant, Coop) Coop-Atlantique. Coop Alsace. Vous n'aurez pas la COOP d'Alsace ? Nous avons eu dans ce blog l'occasion de nous intéresser à Coop Alsace ( voir A Strasbourg, les pratiques du groupe COOP inquiètent et Les Coop d'Alsace sont-elles solubles dans le Groupe Casino ?)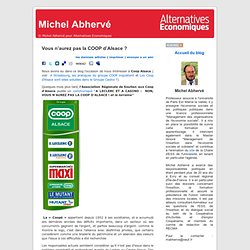 Quelques mois plus tard, l'Association Régionale de Soutien aux Coop d'Alsace publie un communiqué "A LECLERC ET A CASINO : NON, VOUS N'AUREZ PAS LA COOP D'ALSACE ! Et la lorraine" Sommet international des coopératives 2012. CUMA Coopératives d'utilisation de matériel agricole. Coop FR GNC. CG SCOP. Scic Société coopérative d'intérêt collectif.
---