Literacy
Story Starters. Artful storytelling. Meet the Author | Videos & Podcasts. Reluctant writers. Collaborative writng. Writing projects. Reading Strategies for Social Studies. Www.authenticeducation.org/documents/WhatSeminar04.pdf. Socratic. Every Student Response Strategies | LessonCast. True implementation of personalized learning in schools requires a shift in the roles of educators and a shift in educator professional learning.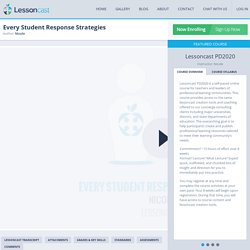 This course examines the evolving role of teachers incorporating personalized learning experiences in the classroom. Taking a close look at what personalized learning is and isn't, participants create resources to support teacher roles as facilitator, assessor, instructional designer, content curator, coach, and advisor, and family-school collaborator. Lessoncast believes in personalized professional learning. Several modules have assignment options. Creative, child-centered art and literacy ideas and activities. Alice.org.
Voki - avatar monologue. Voki Home. Language Arts. Comic Creator. Comic planning sheet. Comic strip assessment rubric. Comic life. Comic Life 3 is now available for both Mac and Windows!
"4 Stars and Editors Choice." MacUser Dec. 2013 "Awesome!... Top 12 Comprehension Apps. Mosaic Listserve Tools. The twelve Reading Strategies PowerPoints below were created for system-wide school development in Elkhart, Indiana.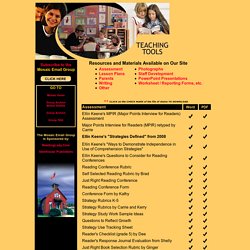 Each Power Point presentation takes approximately fifteen minutes. Permission has been given for list-serve members to use these Power Points for their own school presentations. *These PowerPoints are generously shared by Beth Suderman bsuderman@elkhart.k12.in.us **CLICK on the TITLE to OPEN the PowerPoint presentation. Digital Booktalk. Literature Circle Models. After experimenting for many years, I discovered an approach that's easy, fun, and effective.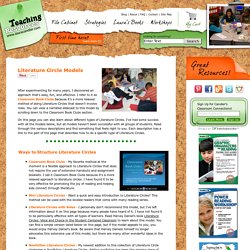 I refer to it as Classroom Book Clubs because it's a more relaxed method of doing Literature Circles that doesn't involve roles. You can view a narrated slidecast to this model by scrolling down to the Classroom Book Clubs section. On this page you can also learn about different types of Literature Circles. I've had some success with all the models below, but all models haven't been successful with all groups of students.
Read through the various descriptions and find something that feels right to you. How to conduct a Literature Circle. MediaSmarts. Tips for Writing Instructional Objectives - Bloom's Taxonomy Job Aids. I am so delighted to see this post that includes Bloom's Taxonomy Wheels by ZaidLearn.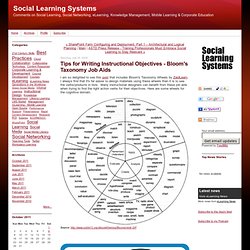 I always find that it's far easier to design materials using these wheels than it is to see the verbs/products in lists. Many instructional designers can benefit from these job aids when trying to find the right action verbs for their objectives. Here are some wheels for the cognitive domain. Writer's Workshop poetry lesson with the iPad. Project Gutenberg. Plymouth+Thinkquiry+PPT+Revised+(4)5. Connecting digital literacy between home and school. A Parent's Guide to 21st-Century Learning. Discover the tools and techniques today's teachers and classrooms are using to prepare students for tomorrow -- and how you can get involved.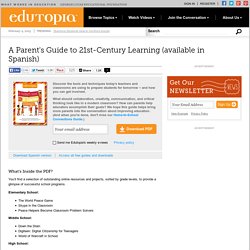 What should collaboration, creativity, communication, and critical thinking look like in a modern classroom? How can parents help educators accomplish their goals? We hope this guide helps bring more parents into the conversation about improving education.
---