Assessment
Feedback
Www.pearsonassessments.com/hai/images/tmrs/Collaboration-Review.pdf. RubiStar Home. Student-Led Parent Conferences: How They Work in My Primary Classroom. "Tell us what you think you did well in your writing?"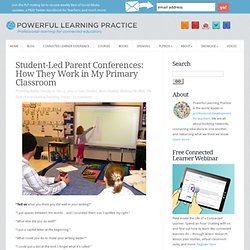 "I put spaces between the words…and I sounded them out. I spelled my right."
Criteria. Assessing Learning with Web 2.0: Marc Prensky's 21st Century Skills2.0. Free Assessment Tools for Classrooms Using One-To-One Technology. Socrative | Student Response System | Audience Response Systems | Clicker | Clickers | Student Clickers | ARS | Mobile Clicker | Software Clicker.
Feedback Badges! | A great way to motivate and inspire your students! 7 Steps To Effective Feedback. Cc licensed image shared by flikr user HikingArtist.com Last week, our educoach chat (a twitter chat dedicated to instructional coaching and professional learning) focused on the topic of giving feedback.
We shared our own experiences giving and receiving feedback and reacted to articles from the most recent issue of Educational Leadership (September, 2012, Vol. 70, No.1).
Assessment for Learning. How to move your lessons from good to outstanding | Teacher Network | Guardian Professional. Where would I be without Twitter?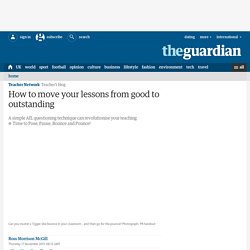 I have decided to elaborate on this AfL strategy, following this tweet from my @TeacherToolkit account on #ukedchat 3.11.11. My tweet said "#ukedchat Missed out tonight, look forward to reading ideas. My favourite T&L strategy at the moment is "Pose, Pause...Pounce, Bounce" #AfL". Firstly, this concept is not mine. So it is at this point, where I will be honourable and credit a colleague who I think has a money-spinning idea here. Reflection Improves Instruction. Graphic Organizers. Authentic Assessment Toolbox Home Page. To the Authentic Assessment Toolbox, a how-to text on creating authentic tasks, rubrics, and standards for measuring and improving student learning.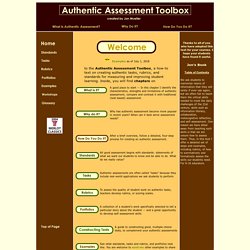 Inside, you will find chapters on A good place to start -- In this chapter I identify the characteristics, strengths and limitations of authentic assessment; compare and contrast it with traditional (test-based) assessment. Why has authentic assessment become more popular in recent years? 1-Defining-21st-Century-Skills. White Paper 1 2010-01.doc. Welcome to DylanWiliam.net!
---