Rainy day projects
DIY : The Lamp Shade Chandelier
One of my favorite Flickr's to browse through belongs to crafter extraordinaire Dottie Angel . Along with countless inspiring images of her home and life, she has offers some great DIY projects! Here's a super cute one you'll probably find me trying ou this weekend: the Lamp Shade turned Chandelier. You should visit her BLOG for more wonderful ideas! 1. Strip the lamp shade down to it's bare-bones wiring.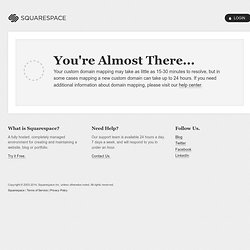 Mini Scrapbooks… AKA: accordion scrapbooks , explosion scrapbooks, squash books I made one for the BF before he moved to China, and Annie made me one for my birthday. As you can see it was 2006 (way before the ol' blog) So, I just googled and found a great tutorial from Making Mini Scrapbooks . Tips: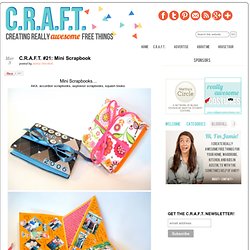 Instead of an album devoted to school, you can add a pocket to your scrapbook for your kids' school-related memorabilia, from school pictures to poems she wrote for homework. Tape together 2 pieces of notebook paper (ours is 7 1/2 by 8 1/2 inches), short end to short end. Trim width if necessary to fit scrapbook pages. Fold paper up from bottom as shown, making pockets in desired depths. Stitch sides to scrapbook pages with a sewing machine to secure, or glue with an archival glue stick.
Memorykeeping Projects and Keepsakes - Crafts - Martha Stewart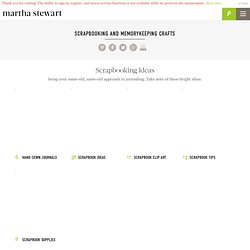 A couple weeks ago, I found a paint-by-number at an unbeatable price. I can't pass these things up even though I already owned this particular design. I thought that I could maybe use it to make a fun D.I.Y., but my new rule is that all thrifts that I purchase with the intent of restyling need to get done right away. I have way too many half finished projects in my life. With that little bit of motivation I came up with a fun D.I.Y. to display some of my favorite song lyrcis in our newlywed home.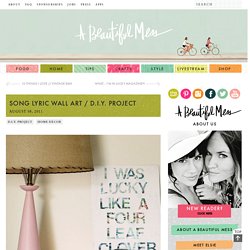 Hello fellow crafters! Tristin and I were invited to be today's featured guest blogger over at Everyday Mom Ideas ! We were thrilled with this wonderful opportunity, and wanted to share with the readers over there one of our trees from the collection we're currently doing. This second tree is very similar to the first one. I'm sorry!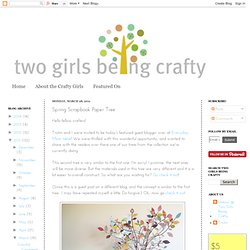 Decorating Frames « In the Wabe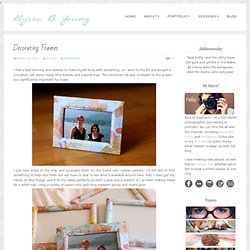 I had a bad morning and needed to make myself busy with something, so I went to the BX and bought a cinnamon roll, some cheap little frames, and a world map. The cinnamon roll was unrelated to this project but significantly improved my mood. I just tore strips of the map and arranged them on the frame with rubber cement. I'd still like to find something to help seal them but will have to look to see what's available around here.
If interested, I answered a few interview questions with Simply Modern Mom here . And a few more questions with The Creative Connection here . (At the end of the interview with Creative Connection, there is a mention of a 2 pattern giveaway from my shop.