IT
Ask the eConsultant
Tauceti Un site incontournable, trop riche pour qu'on puisse le décrire complètement. Besoin d'une adresse ? Un problème de sécurité ?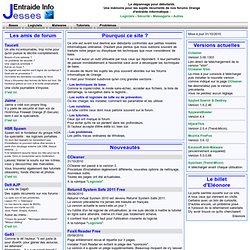 Jesses Entraide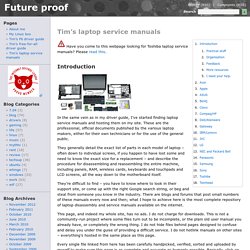 Have you come to this webpage looking for Toshiba laptop service manuals? Please read this. Introduction In the same vein as in my driver guide, I've started finding laptop service manuals and hosting them on my site. These are the professional, official documents published by the various laptop makers, either for their own technicians or for the use of the general public. They generally detail the exact list of parts in each model of laptop – often down to individual screws, if you happen to have lost some and need to know the exact size for a replacement – and describe the procedure for disassembling and reassembling the entire machine, including panels, RAM, wireless cards, keyboards and touchpads and LCD screens, all the way down to the motherboard itself.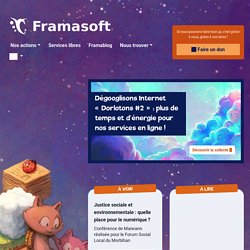 Éditeur Framasoft Association loi 1901 déclarée en sous-préfecture d'Arles le 2 décembre 2003 sous le n° 0132007842 N° Siret : 500 715 776 00018
The 1 percent have long had smartphones from Porsche and Vertu to quench their high-end thirst, but when it comes to dual-SIM handsets, the elite have had to settle for something a little more ordinary. For those in need, Gresso created Azimuth, the first dual-SIM luxury handset. Starting at $2,000, the phone is made of titanium, with both the keys and logo crafted out of 18K or white gold. Since appearances are all that matter, you're getting some pretty low-end specs under the hood, including 2GB of "internal memory," a 1.3-megapixel camera, Bluetooth 2.0 and a tiny 1,100mAh battery. To put things in perspective, Samsung's Galaxy S5 starts with 16GB of built-in storage, a 16-megapixel camera and a 2,800mAh battery.