Klingon general info
The Klingons (Klingon: tlhIngan, pronounced [ˈt͡ɬɪ.ŋɑn]) are a fictional extraterrestrial humanoid warrior species in the science fiction franchise Star Trek.
Klingon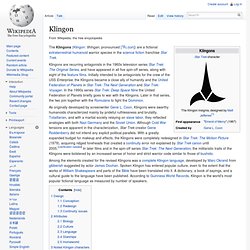 The Klingon language (tlhIngan Hol, pronounced /ˈt͡ɬɪ.ŋɑn xol/) is the constructed language spoken by the fictional Klingons in the Star Trek universe.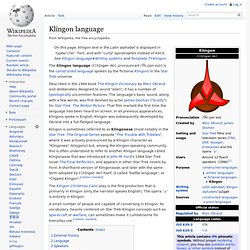 Klingon language
Klingon
"A Klingon's honor means more to him than his life!" The Klingons are a humanoid warrior species that originated from the planet Qo'noS (pronounced Kronos), an M-class planet. One of the major powers of the galaxy, the Klingons were a proud, tradition-bound people who valued honor and combat.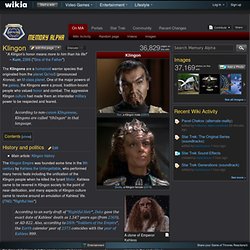 i am glad you like it . thanks by chefthanya Aug 20
Qapla' batlh je - KAHPLAH BATL JEH - SUCCESS AND HONOR HIja' - HIHJAH' - YES, TRUE (answer to yes/no question) HISlaH - HISHLAHH - YES,TRUE (answer to yes/no question) luq - LUKE - YES, OK, I WILL lu' - LU' - YES, OK ghobe' - GHHOBEH' - NO (answer to a question) Qo - KO - NO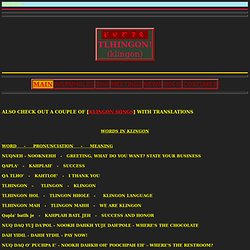 MrKlingon.org - the home of the Universal Translator Assistant Project
tlhIngan Hol
tlhIngan Hol mu'ghom
search google in klingon
Haha! Google in Klingon is really cool!! A good way to learn a few words ;) by amsika Aug 25
nejwI' 'Itlh