Klingon general info
The Klingons (Klingon: tlhIngan, pronounced [ˈt͡ɬɪ.ŋɑn]) are a fictional extraterrestrial humanoid warrior species in the science fiction franchise Star Trek. Among the elements created for the revised Klingons was a complete Klingon language, developed by Marc Okrand from gibberish suggested by actor James Doohan. Spoken Klingon has entered popular culture, even to the extent that the works of William Shakespeare and parts of the Bible have been translated into it. A dictionary, a book of sayings, and a cultural guide to the language have been published.
Klingon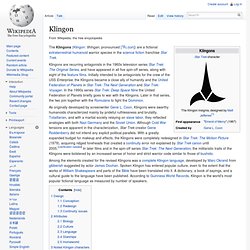 [On this page, Klingon text in the Latin alphabet is written in typewriter font to avoid confusion between capital "I" and lowercase "l", which in a sans-serif font such as Arial are nearly indistinguishable: I l. See Klingon language#Writing systems.] The Klingon language (tlhIngan Hol, pronounced /ˈt͡ɬɪ.ŋɑn xol/) is the constructed language spoken by the fictional Klingons in the Star Trek universe. Described in the 1984 book The Klingon Dictionary by Marc Okrand and deliberately designed to sound "alien", it has a number of typologically uncommon features. The language's basic sound, along with a few words, was first devised by actor James Doohan ("Scotty") for Star Trek: The Motion Picture.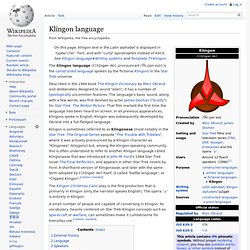 Klingon language
Klingon
"A Klingon's honor means more to him than his life!" The Klingons are a humanoid warrior species that originated from the planet Qo'noS (pronounced Kronos), an M-class planet. One of the major powers of the galaxy, the Klingons were a proud, tradition-bound people who valued honor and combat.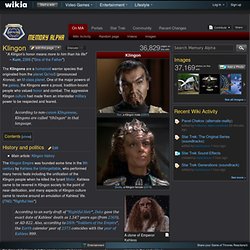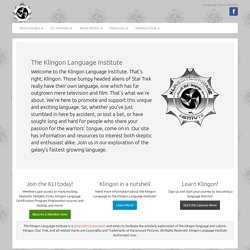 Welcome to the Klingon Language Institute. That's right, Klingon. Those bumpy headed aliens of Star Trek really have their own language, one which has far outgrown mere television and film. That's what we're about. We're here to promote and support this unique and exciting language. So, whether you've just stumbled in here by accident, or lost a bet, or have sought long and hard for people who share your passion for the warriors' tongue, come on in.
Qapla' batlh je - KAHPLAH BATL JEH - SUCCESS AND HONOR HIja' - HIHJAH' - YES, TRUE (answer to yes/no question) HISlaH - HISHLAHH - YES,TRUE (answer to yes/no question) luq - LUKE - YES, OK, I WILL lu' - LU' - YES, OK ghobe' - GHHOBEH' - NO (answer to a question) Qo - KO - NO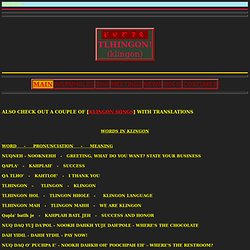 MrKlingon.org - the home of the Universal Translator Assistant Project
tlhIngan Hol
tlhIngan Hol mu'ghom
search google in klingon
nejwI' 'Itlh