Tutorials
Get flash to fully experience Pearltrees
Hack & Slash is a Unity3d tutorial series with focus on creating a basic, but playable RPG style game.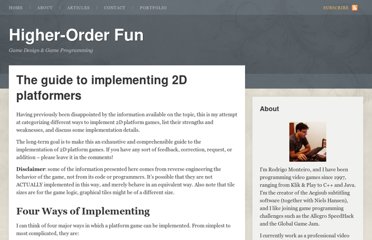 Having previously been disappointed by the information available on the topic, this is my attempt at categorizing different ways to implement 2D platform games, list their strengths and weaknesses, and discuss some implementation details. The long-term goal is to make this an exhaustive and comprehensible guide to the implementation of 2D platform games. If you have any sort of feedback, correction, request, or addition – please leave it in the comments! Disclaimer : some of the information presented here comes from reverse engineering the behavior of the game, not from its code or programmers. It's possible that they are not ACTUALLY implemented in this way, and merely behave in an equivalent way.
Welcome to YouTube! The location filter shows you popular videos from the selected country or region on lists like Most Viewed and in search results.To change your location filter, please use the links in the footer at the bottom of the page. Click "OK" to accept this setting, or click "Cancel" to set your location filter to "Worldwide".
I've worked building tools and engines for artists making games and visual effects for more than ten years, and I've always been baffled by the distinction that people make between "programmer art" and "real game art". Also, I've noticed that the only people who will give you a free pass for bad programmer art are other programmers. Regardless of how fun your game is, or how technically awesome your tech demo is, the non-programmers you show it to are going to think: Is that a jetpack or a tumor?