Webdesign
Background. Icons. Colors. Grid. Fonts. More stuff in webdesign. Compete | Compete. Function Web Design & Development [ Blog ] » How to Spot Qua. Nexx | Affordable Loans and Rewarding Investments at New Zealand. Get Satisfaction - People-Powered Customer Service.
Welcome to Webware 100 Awards 2008. Dzine Blog | Archive | Web Interface. Popular events will often launch their own website online to provide easy-access for attendees.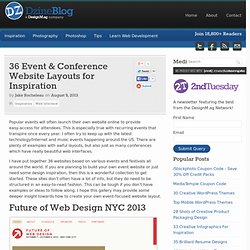 This is especially true with recurring events that transpire once every year. I often try to keep up with the latest technology/Internet and music events happening around the US. There are plenty of examples with awful layouts, but also just as many conferences which have really beautiful web interfaces. I have put together 36 websites based on various events and festivals all around the world. If you are planning to build your own event website or just need some design inspiration, then this is a wonderful collection to get started. Gallery of Launching Soon Pages. Robinhood - added on April 17, 2014 MailCloud - added on April 16, 2014 Squire - added on April 15, 2014 Boostgram - added on April 15, 2014.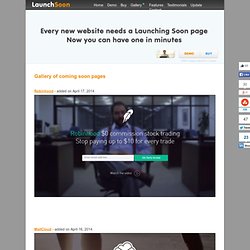 Web design London - Creative web agency from Richmond, London. Vimeo, Video Sharing For You. Da Button Factory - Create pretty buttons online, quickly! Potion Factory. The Invoice Machine | Online Invoicing Made Beautiful. Made by Elephant - We craft interfaces. ZURB – Interaction Design & Strategy. 12 Useful Techniques For Good User Interface Design | How-To | S. Advertisement Last week, we presented 10 Useful Web Application Interface Techniques, the first part of our review of useful design trends in modern Web applications.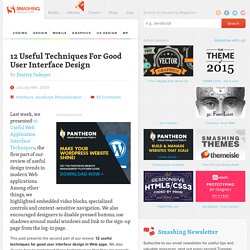 Among other things, we highlighted embedded video blocks, specialized controls and context-sensitive navigation. We also encouraged designers to disable pressed buttons, use shadows around modal windows and link to the sign-up page from the log-in page. This post presents the second part of our review: 12 useful techniques for good user interface design in Web apps. MIX Online. Balsamiq Studios, makers of plugins for Web Office applications. Two December* A mash of work from Australian designer, Rob Morris. Interface Design for the Web - MetaLab.
Gist. Matt Dempsey - Web and Print Designer. Pro-Keds / Since 1949. Dining Out at Ruby Tuesday Restaurant. 24 ways - web design and development articles and tutorials for. Create, send, and monitor your own email campaigns | ZenSender. Squeejee - Ruby on Rails development in Dallas, Houston, and bey. We Are not Freelancers. Mint.com > Home. About ten24 Media | Web Marketing Company Edmonton, Alberta, Can.
What we do 2 things: 1.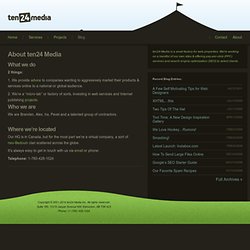 We provide advice to companies wanting to aggressively market their products & services online to a national or global audience. Single-Page Portfolio Sites. Are you looking for ideas to design a portfolio site?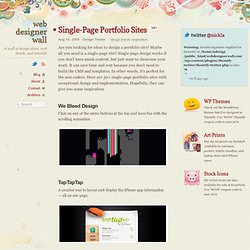 Maybe all you need is a single-page site? Single-page design works if you don't have much content, but just want to showcase your work. It can save time and cost because you don't need to build the CMS and templates. In other words, it's perfect for the non-coders. Here are 30+ single-page portfolio sites with exceptional design and implementation. Top 10 CSS Table Designs | CSS, Events. Advertisement By R.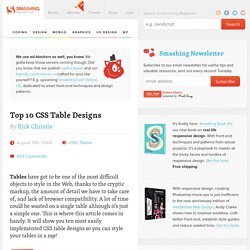 Christie. STUDIO7DESIGNS Green website and logo brand design company | Web. Luke Larsen - Unique and Creative Web Design. Zig: ideas in their most powerful form. Moluv - The World's Best-Looking Web Sites. Www.dontclick.it. Design Snack / The design showcase that you control / CSS, XHTML. N.Design Studio - Blog & Design.
Best Web Gallery - Flash + CSS Gallery.
---