Webdesign 1
The Best Damn Web Marketing Checklist, Period! - Search Engine G
Marketing a website isn't particularly difficult. It's usually just a matter of knowing what to do, how to do it and having the skills and time to get it done. With that said, marketing a website isn't particularly easy either. There are so many factors and variables in play that at any given time that the job can be quite overwhelming. Obviously I can't address the issue of whether or not you have the skills or time, but I can help you out with the "what to do" piece of the puzzle. I've always been a lover of checklists, especially when it comes to getting things done.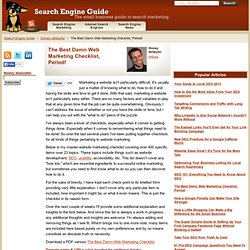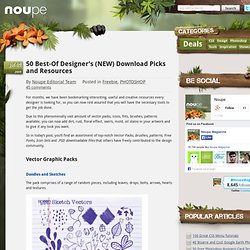 50 Best-Of Designer's (NEW) Download Picks and Resources | Noupe
Jul 09 2009 For months, we have been bookmarking interesting, useful and creative resources every designer is looking for, so you can now rest assured that you will have the necessary tools to get the job done. Due to this phenomenally vast amount of vector packs, icons, fnts, brushes, patterns available, you can now add dirt, rust, floral effect, swirls, mold, oil stains in your artwork and to give it any look you want.
Beautiful Examples of Inset Typography in Web Design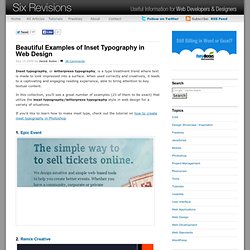 Inset typography, or letterpress typography, is a type treatment trend where text is made to look impressed into a surface. When used correctly and creatively, it leads to a captivating and engaging reading experience, able to bring attention to key textual content. In this collection, you'll see a great number of examples (23 of them to be exact) that utilize the inset typography/letterpress typography style in web design for a variety of situations. If you'd like to learn how to make inset type, check out the tutorial on how to create inset typography in Photoshop. 1. Epic Event
Positive Hype - imagine create inspire
Welcome to Ember! The best way to share your design inspiration!
Web Design Newcastle, New South Wales Australia | Just Creative
Valen Designs - Web Design, SEO, Branding & Application Deve
I've been reading comic books off and on since I was little. There was a time when I thought I'd like to pursue a career in drawing comics.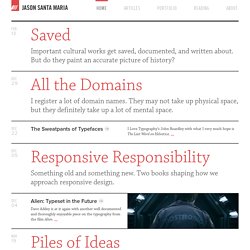 Jason Santa Maria
JeffCroft.com: Homepage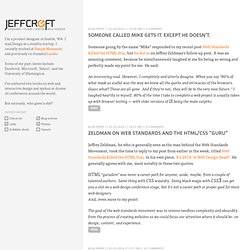 Someone called Mike gets it. Except he doesn't. Someone going by the name "Mike" responded to my recent post Web Standards Killed the HTML Star, but he did so on Jeffrey Zeldman's follow up post. It was an amusing comment, because he simultaneously laughed at me for being so wrong and perfectly made my point for me.
The Things We Make - Graphic Design, Illustration, Brand & I
Brad Colbow Design - Cleveland Web Design, Freelance Graphic Des
Vote - .net magazine awards 2009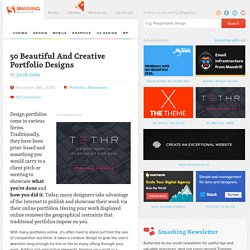 50 Beautiful And Creative Portfolio Designs | Design Showcase |
Advertisement Design portfolios come in various forms. Traditionally, they have been print-based and something you would carry to a client pitch or meeting to showcase what you've done and how you did it. Today, many designers take advantage of the Internet to publish and showcase their work via their online portfolios. Having your work displayed online removes the geographical restraints that traditional portfolios impose on you.
Bill C. English | UI and Web Designer, Indianapolis
Mike Matas Blog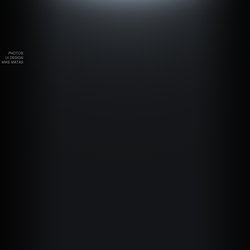 I'm the design lead for Paper, a new app from Facebook that lets you explore and share stories from friends and the world around you. Paper makes storytelling more beautiful with an immersive design and distraction-free layouts. Before joining Facebook I co-founded Push Pop Press, a digital publishing company that created Al Gore's interactive book Our Choice. Prior to starting Push Pop Press I helped design the Nest Learning Thermostat and worked at Apple where I designed user interfaces and artwork for the iPhone, the iPad, and Mac OS X.
One of the neatest things about CSS Transforms is that they change the hit area of an element to whatever transformed value we set. So, if we rotate an element, the hit area for that element doesn't stay a box in the defined X and Y plane; it changes to the transformed shape. CSS Transformed Hit Box With that in mind, when I was handed a design comp with a skewed design element and links with angled edges within it, I realized for great justice it was achievable by skewing an element and applying overflow: hidden to the container. The markup for this demo is really simple:
Web Design Blog | Web Design Standards | Viget Inspire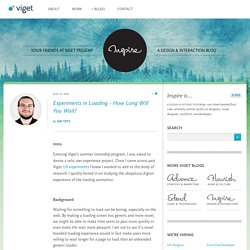 Dragon Interactive
scripty2: for a more delicious web
The Index. | Dustin Curtis
Apple and its innovative products and marketing are the focus of some excellent design tutorials for Photoshop. Since I kept seeing tutorials inspired by the iPhone and iPod, I decided to compile the best tutorials of this kind that I could uncover. Here are 35 for those of you who can't get enough of Apple. Looking for hosting? WPEngine offers secure managed WordPress hosting.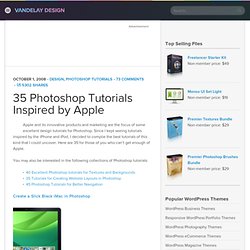 35 Photoshop Tutorials Inspired by Apple
Hemlock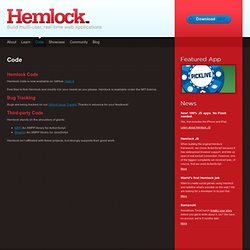 Hemlock Code Hemlock code is now available on GitHub. Grab it. Feel free to fork Hemlock and modify it to your needs as you please. Hemlock is available under the MIT license. Bug Tracking
The Future of WordPress Starting with just a simple line of code 11 years ago, WordPress has evolved to become the platform of more than 74 million websites. Even with a vast array of competitors offering similar functionality, WordPress still dominates the CMS market with a 21.9% market share. continue reading »
Six Revisions - Web Development and Design Information
Let's talk about me I am a web designer I'm a graphic designer who loves the web, design, beauty and things that are enjoyable to use. I am as excited by smart mark-up and clever CSS as I am by the single pixel that makes that button perfect.
Hi, I'm Jason.
Pattern Tap : Organized Web Design Collection of User Interfaces
Pattern Tap Library Pattern Tap The Main Tap 5,472 Patterns Sort By | Type | Style | Device
40 Beautiful Examples of Minimalism in Web Design
Minimalism is a design style that emphasizes simplicity and the removal of superfluous elements in one's own work. It's applied in art, architecture, print work, and in web design. There is something extraordinary about making something magnificent with limited resources, and in this showcase, you'll find the work of talented designers that exhibit exemplary use of Minimalism theories applied to web design.
design|snips
teehan+lax - interactive user experience design
25 Great Examples of Using Gradient Effects in Web Designs
100 Great Resources for Design Inspiration - zaglog's poste
Portfolio | Anderbose: Web Design and Interactive Agency in Nash
Noupe
100 Great Resources for Design Inspiration
Web Designer Help » Over 40 Beautiful Portfolios
SimpleBits
Cure Writer's Block: Skribit
Ordered List // We Make The Web Beautifully Simple
100% Rebrandable email marketing software just for designers - C
Outstanding Website Background Guide: 60+ Impressive Resources |
edopter.com: social trendcasting.