Webapp
Security. Kiwibankwip. Web 2.0 Directory | Web 2.0 Applications. Website Features That You Can Easily Offload. The amount of site features that you have can take a dire toll on your web server, making your site sluggish and more vulnerable to becoming offline because system resources have been expended.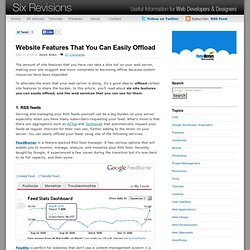 To alleviate the work that your web server is doing, it's a good idea to offload certain site features to share the burden. In this article, you'll read about six site features you can easily offload, and the web services that you can use for them. 1. RSS feeds Serving and managing your RSS feeds yourself can be a big burden on your server especially when you have many subscribers requesting your feed.
45 Interesting Web 2.0 Services And Applications That Can Make Y. Web 2.0 is a category of new Internet tools and technologies created around the idea that the people who consume media and use the Web shouldn't passively absorb what's available.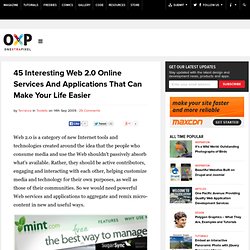 Rather, they should be active contributors, engaging and interacting with each other, helping customize media and technology for their own purposes, as well as those of their communities. So we would need powerful Web services and applications to aggregate and remix micro-content in new and useful ways. Time tracking and invoicing features for small businesses and fr. Net | Powerful Features - Online Workspaces, File Sharing and St.
Business Catalyst - eCommerce CMS for Designers with Email Marke. eCommerce CMS with CRM, Email Marketing and Analytics. FogBugz - Project Management Software. What gets tracked gets improved.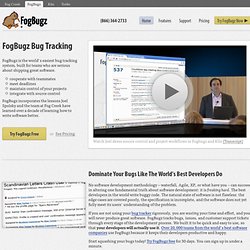 If you are not tracking your bugs, your bugs will only be fixed by accident. Many development shops use email, spreadsheets, or sticky notes as ad hoc bug tracking tools. Club Sites | Professional websites for Clubs, at affordable pric. Project Management for Agile Teams. To Skinnyboard User, It is with regret that we inform you that Skinnyboard.com will cease operations as of January 1, 2013.
Over the past three years it has been our pleasure to provide this service to you. However, we have not had the ongoing financial success required to continue support and development of the system and so we must make the decision to close and move on to other opportunities. We will honour all existing subscriptions for the next 60 days. Your account will be closed as of January 1, 2013 and your records with us deleted.
Remember Everything. | Evernote Corporation. Online Accounting Software, Small Business Bookkeeping & Inv. Online Accounting Software for Freelancers and Small Businesses. Weightbot - Tapbots. Weightbot Overview Weightbot is a simple weight tracking app that makes weight management fun!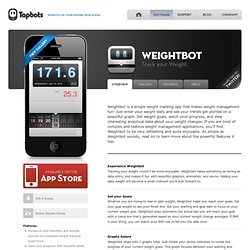 Just enter your weight daily and see your trends get plotted on a beautiful graph. Set weight goals, watch your progress, and view interesting analytical data about your weight changes. If you are tired of complex and tedious weight management applications, you'll find Weightbot to be very refreshing and quite enjoyable. As simple as Weightbot sounds, read on to learn more about the powerful features it has. IconDock - The Art of Stock Icons. ICC World Twenty20 2009. The easiest way to create your own survey site | SonarHQ.com. Peashoot — Start, Grow and Track your Campaigns. The Messy Notebook » How To Build Something Real (In Your Spare.
Small Business Cash Flow Management - Pulse. LooseStitch · Free Online Outliner · Create · Invite · Share. KISSmetrics. Secure source code hosting and collaborative development - GitHu. BlueTunes.net | Take your music to the cloud. Ballpark: Online invoicing has never been easier. Build a Website. Newspond. Tea Round - Democra-tea at work. 100 2009. Newsberry Email Marketing Service. Remember The Milk.
Compare Mortgage Loans CD Rates Credit Cards Bank Reviews Saving. Chartbeat - real-time website analytics and uptime monitoring. GoodBarry - eCommerce CMS with CRM, Email Marketing and Analytic. Your life. Goplan - Online project management and collaboration tool.
Ballpark: The better way to send invoices and estimates. Dabble DB - Create an Online Database - Collect, report, and sha. Matt Mazur » Six Lessons Learned from Domain Pigeon's First Six. On January 29th I launched Domain Pigeon, a web site to help people find available domain names.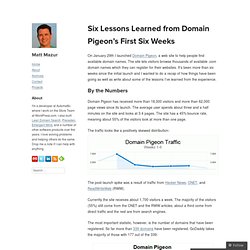 The site lets visitors browse thousands of available .com domain names which they can register for their websites. It's been more than six weeks since the initial launch and I wanted to do a recap of how things have been going as well as write about some of the lessons I've learned from the experience. Domain Pigeon has received more than 18,000 visitors and more than 62,000 page views since its launch. The average user spends about three and a half minutes on the site and looks at 3.4 pages.
---