Food Carts
Sauca Food Truck | Food Truck Fiesta - a real-time automated DC food truck tracker
The Grilled Cheese Truck
Bacon & Eggs in Toast Cups Yesterday we got probably about 10 inches of white fully snow, which meant that church was canceled this morning and so was Hubby's softball game. I usually make breakfast on Saturday mornings, but this Saturday I had to go into work for a few hours. But since we had no church to get up early for or a softball game to run to, I decided to make some breakfast this morning. I recently got this awesome book, William & Sonoma's: Tools & Techniques.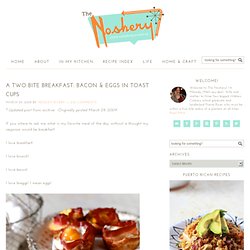 Andrew Carmellini - Munchies | VBS.TV
Great New Way to Eat Sushi – Jogasaki Sushi Burrito
People may say that the gourmet food truck craze is on its way out, but I think they are wrong. There are a ton of new trucks coming out, and yes, many are knock-offs of existing trucks or concepts, but every once in awhile you find a truck that offers something unique. If you want a different but great tasting gourmet food truck experience then I suggest you track down Jogasaki Sushi Burrito. These guys are rocking it.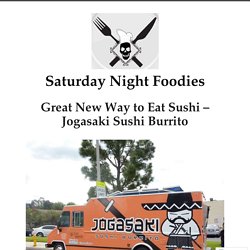 Jogasaki Sushi Burrito Los Angeles
Dos Chinos - Eat St. - Food Network Canada