Physics, Chemistry & Maths
Subatomic particles don't care if time moves forward or backward — it's all the same to them. But now physicists have found proof of one theorized exception to this rule. Usually, time is symmetrical for particles, meaning events happen the same way if time progresses forward or backward.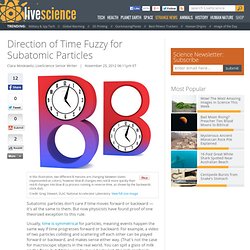 Direction of Time Fuzzy for Subatomic Particles | Time Asymmetry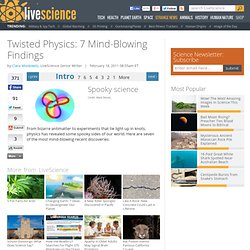 Twisted Physics: 7 Mind-Blowing Findings | Spooky Entanglement, Antimatter & Nuclear Fusion
Spooky science
The Coolest Little Particles in Nature | Supersymmetry & Sparticles | God Particle, Higgs Boson | Atom Smashers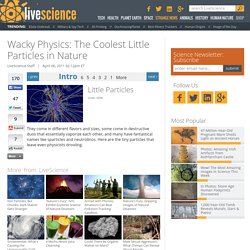 Little Particles They come in different flavors and sizes, some come in destructive duos that essentially vaporize each other, and many have fantastical names like sparticles and neutrolinos. Here are the tiny particles that leave even physicists drooling.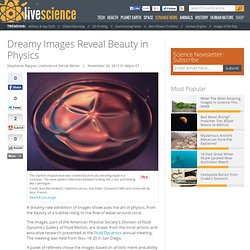 A dreamy new exhibition of images showcases the art of physics, from the beauty of a bubble rising to the flow of water around coral. The images, part of the American Physical Society's Division of Fluid Dynamics Gallery of Fluid Motion, are drawn from the most artistic and evocative research presented at the Fluid Dynamics annual meeting. The meeting was held from Nov. 18-20 in San Diego.
Dreamy Images Reveal Beauty in Physics | Fluid Dynamics
Top 50 Physics Ideas: the principles that changed the world
The following list is based on an excellent science book known as the 50 Physics Ideas You Really Need to Know . It is about the top ideas that change this natural science forever and help us have a better understanding of nature and how the universe behaves . It covers the discoveries of the last two millennia from the mathematic laws of nature developed by the ancient Greeks way up to the infinite possibilities of Quantum Physics , passing be key elements of Scientific Revolution. The list as well as the book is dived into various sections including Matter In Motion, Beneath The Waves, Conundrums, Splitting Atoms and finally Space and Time.
By Eddie Wrenn PUBLISHED: 09:09 GMT, 22 June 2012 | UPDATED: 10:42 GMT, 22 June 2012 It's a childhood toy that we have probably all seen - but watch it in slow-motion, and the Slinky appears to defy the laws of physics.
Watch the everyday Slinky 'defy' the laws of physics and gravity (but try not to go loopy)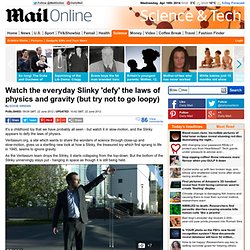 Mathematics, Systems, Complexity & Chaos
Elements & Periodic Table
Dark Matter: The Cosmos' Greatest Mystery Deepens
Like Hollywood legends Audrey Hepburn and Katharine Hepburn, dark energy and dark matter are completely unrelated, even though they share a name. Dark energy, a force that makes the universe expand faster and faster all the time, is called dark because it's mysterious. Nobody knows what it is. Dark matter, on the other hand, a type of matter that outweighs ordinary stars and galaxies 5 to 1, is called dark because it's utterly invisible.
Dark-Matter Theory Questioned by Astronomers' New Findings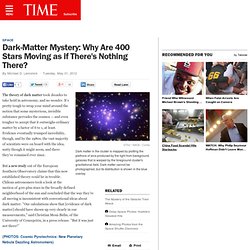 The theory of dark matter took decades to take hold in astronomy, and no wonder. It's pretty tough to wrap your mind around the notion that some mysterious, invisible substance pervades the cosmos — and even tougher to accept that it outweighs ordinary matter by a factor of 6 to 1, at least. Evidence eventually trumped incredulity, though, and by the 1980s, the vast majority of scientists were on board with the idea, nutty though it might seem, and there they've remained ever since. But a new study out of the European Southern Observatory claims that this now established theory could be in trouble.
Note: this is the third of three parts of the essay. The first two parts were published yesterday and the day before (see links at the bottom of the page).
How the Modern Physics was invented in the 17th century, part 3: Why Galileo didn't discover universal gravitation? | Guest Blog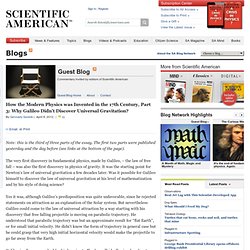 Nature can be extremely devious in the way it hides its secrets. Sometimes the most remarkable and profound insights are staring us right in the face every day in the most mundane phenomena. For instance, we have all seen the spectacular colors that can appear in soap bubbles: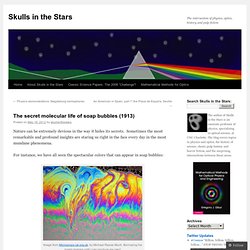 The secret molecular life of soap bubbles (1913)
Read full article Continue reading page | 1 | 2
LHC antimatter anomaly hints at new physics - physics-math - 23 November 2011
New Scientist TV: Animation reveals the world's hidden equations
MacGregor Campbell, contributor
Quantum Computers Will Solve Problems that would take Today's Computers Longer than the Age of the Universe
Astrophysicist Paul Davies at Arizona State University proposes that information, not mathematics, is the foundation on which physical reality, the laws of nature, are is constructed.
Physicists Predict Properties of Prime Numbers from Freezing Liquids
Physicists from Queen Mary's School of Mathematical Sciences, together with colleagues from Bristol University, discovered a pattern in frozen glasses that relates to prime numbers. By building models and developing theories, the team believes they have evidence for a connection between prime numbers and freezing in certain complex materials in Physics. The same freezing which is responsible for transforming liquids into glasses can help to predict some patterns observed in prime numbers, according to a team of scientists from Queen Mary, University of London and Bristol University.
The accidental universe: Science's crisis of faith—By Alan P. Lightman
Printer friendly version
Physicists observe the splitting of an electron inside a solid
Anonymous Donor Saves Last U.S. Particle Physics Lab From Going Under
Tiny 'Soccer Ball' Space Molecules Could Equal 10,000 Mount Everests | Buckyballs in Space & Space Molecules | Spitzer Space Telescope & Carbon BuckyBalls in Space | LiveScience
'Faster Than Light' Neutrino Was Product of Loose Cable at CERN
Scientists capture first image of two atoms INSIDE a molecule (but we'll just have to take their word for it)