Photo Collection 4 - Asstd
Get flash to fully experience Pearltrees
By Rob Cooper PUBLISHED: 10:07 GMT, 18 May 2012 | UPDATED: 14:55 GMT, 18 May 2012 A monkey takes the underground and a lion walks down the street in these mind-bending photos.
When you hear the word ' kinetic ' for the first time, probably the first thing that comes to your mind is motion. Kinetic Photography , also known as ' camera tossing ', is a technique of shooting photos with the actual physical movement of the camera. However, it does not necessarily involve tossing of the camera — you can also shake, bounce, swing or spin it; the goal of the technique is to obtain unpredictable results which are sometimes fascinating, always abstract and rarely boring.
This post contains some really amazing examples of forced perspective photography. Forced Perspective is a specific photography technique used to create an optical illusion, wherein each subject or object is strategically placed to appear farther away, closer, larger or smaller than it actually is. In this article, we've present our hand-picked collection of 101 amazing examples of forced perspective photography, which includes images that show how much fun you can have with it. To see larger versions of the photographs and to learn more about both the photograph and photographer, be sure to click on the images.
Photo manipulations are quite popular among all generations of designers and digital artists. It is also a genre often used in the advertising industry because of the effect these manipulations have on people. This sort of artwork are usually shocking and unrealistic and they are demanding of people's attention and reactions either negative or positive. That's the purpose of advertising – to make people feel something about the brand or particular product.
Friday is a good day to take some time to see inspiring photographs, and that is why we decided to gather a few black and white images today, to help you close the week with a nice dose of inspiration. In my opinion, black and white photography capture scenes in an almost magical way… without colors images seems stronger, they have a different intensity, a different feeling. Let's say b&w images allow you to see things without any distractions, you just see the scene, pure and simple. About the Author Gisele Muller is someone that recently discovered a new career online. A person that really likes technology, design, photography and creativity.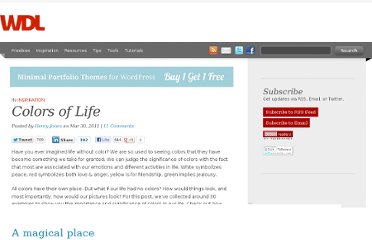 Have you ever imagined life without color? We are so used to seeing colors that they have become something we take for granted. We can judge the significance of colors with the fact that most are associated with our emotions and different activities in life. White symbolizes peace, red symbolizes both love & anger, yellow is for friendship, green implies jealousy.
Home » Design Articles » Photography » 60 Colorful Emotional Summer Photography Examples Published on Wed, Jun-01-2011 by Dainis Congratulations to all with the first summer month.