Clothing
T-Shirts & Apparel :: Women's Shirts. The Hunt - Find the products that match the trend, style or exact item in any online photo. Batman Hockey Stripe Babydoll. Mod Retro Vintage Clothing & Indie Clothes. The Hunger Games Merchandise – Shirts, Clothing & Accessories. Clothing Store | Prom - Formal - Sexy - Party Dresses. 12 Ways to Tie A Scarf. How to tie a scarf ♥1.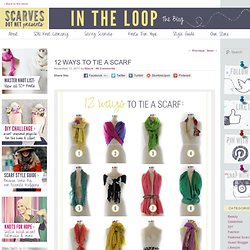 Yellow Scarf: Add a corsage to spice up your scarf.♥2. Pink and Purple Scarf: Use an infinity scarf as a shawl.♥3. Lime Green Scarf: Fold your scarf in half, put the middle around your neck. Wrap the sides around your neck and back through the loop you made in front of your neck.♥4. 5 Hot Color Trends for Spring 2012. It's that time of year again — spring is just around the corner!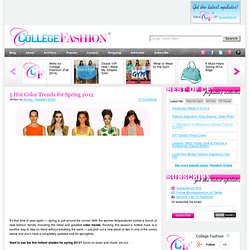 With the warmer temperatures comes a bunch of new fashion trends, including the latest and greatest color trends. Rocking this season's hottest hues is a surefire way to stay on trend without breaking the bank — just pick out a new piece or two in one of the colors below and you'll have a completely updated look for springtime. Want to see the five hottest shades for spring 2012? Scroll on down and check 'em out: DIY: Banana Republic Braided Neck Tee Shirt | her new leaf. You still have until tomorrow, July 22 to enter my first blogiversary giveaway!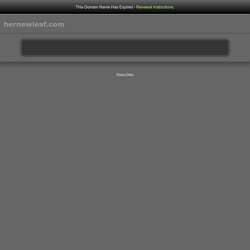 Get your entries in! Have you guys heard of Pinterest? Pinterest is a virtual "pinboard" that allows you to visually bookmark images from all over the internet. SALE Designer Clothing :: tobi [page 10] Class to Night Out: Bright Blazer. Do you struggle with transforming your outfits from day to night?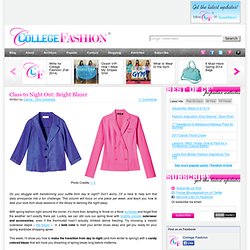 Don't worry, CF is here to help turn that daily annoyance into a fun challenge. This column will focus on one piece per week, and teach you how to take your look from study sessions in the library to dancing the night away. With spring fashion right around the corner, it's more than tempting to throw on a floral sundress and forget that the weather isn't exactly there yet. Luckily, we can still cure our spring fever with brightly colored outerwear and accessories, even if the thermostat hasn't actually climbed above freezing. Try choosing a classic outerwear staple – the blazer – in a bold color to melt your winter blues away and get you ready for your spring wardrobe shopping spree. Outfits Under $100: 3 Spring Transition Looks. Photo: Wildfox Couture, via Elle.com Buckle up kids – here at College Fashion, we are in full-fledged spring transition mode.
It's always a toughie to pick the perfect March outfit, which is why we're here to help. The best part? Things that Catch my Eye. Perfect Summer Bangle. Here's a fun tutorial on how to make a message bangle that's one-of-a-kind, done in the sun, waterproof and weatherproof.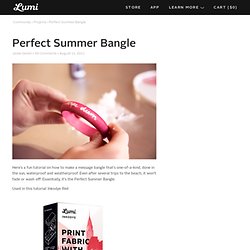 Even after several trips to the beach, it won't fade or wash off! Essentially, it's the Perfect Summer Bangle. Used in this tutorial: Inkodye Red Prepare. Wardrobe Essentials for College Girls. I received the following email recently: "Hey i love your site and find it really helpful.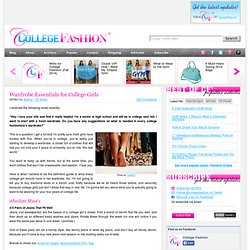 I'm a senior in high school and will be in college next fall. 15 Chic and Creative Ways to Tie a Scarf. How to tie a half-bow scarf To tie the half-bow scarf, you should first loop the scarf around your neck and tie once– like the first step of tying your shoelaces.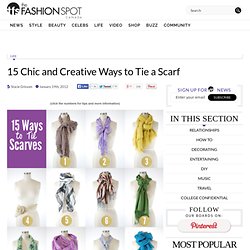 Then, take one side of the scarf and make a one loop, as if you were only tying one side of the bow on your shoes.
---