Filesharing
Welcome to DC++ Direct Connect allows you to share files over the Internet without restrictions or limits. The client is completely free of advertisements and has a nice, easy to use interface. Firewall and router support is integrated and it is easy and convenient to use functionality like multi-hub connections, auto-connections and resuming of downloads. DC++ is a highly ranked piece of software among the projects hosted at Sourceforge.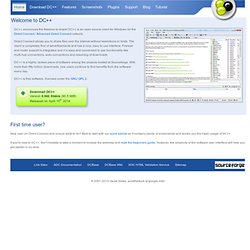 4 Easy Tools For Sharing Large Files Over The Internet
Sites built to share your files are, as they say, a dime a dozen. Sites that will let you share larger files, which may be several GB in size, are not nearly as common. Having scoured the Web (as well as our own site directory) for candidates, I've narrowed them down to four ridiculously simple services which will have you swapping movies – I mean, perfectly legal Creative Commons-licensed videos – in no time.