Open Source Options
Presenter | Product Overview. Powerbullet is a small, simple program for creating presentations in the Flash format.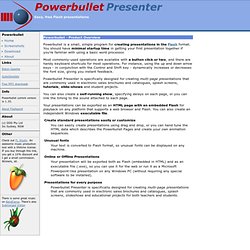 You should have minimal startup time in getting your first presentation together if you're familiar with using a basic word processor. Most commonly-used operations are available with a button click or two, and there are handy keyboard shortcuts for most operations. For instance, using the up and down arrow keys - in conjunction with the Control and Shift key - dynamically increases or decreases the font size, giving you instant feedback. Home - Art of Illusion.
Scribus.net. Welcome to Zoho Show - Online presentation tool. Cost-Effective You don't have to install or maintain hardware and software and reasonably priced subscription plans lead to more cost savings.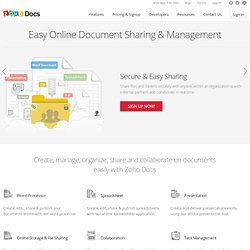 Anytime Anywhere Access Being a web-based document management solution you can take all your documents with you wherever you go with access to them anytime, anywhere. Reduced IT burden Scalability, security, reliability or software upgrades, we have them all covered, so you can focus on enhancing business productivity. Enhanced business continuity Storing your files online keeps all your valuable data safe from various threats and calamities and ensures the normal functioning of your business is not affected. Increased productivity Save valuable productive time by finding and accessing files with the click of a button. Welcome to Zoho Show - Online presentation tool. S Guide to...Free Graphics Software, Images, Clipart, etc. Scribus - Scribus.net. 15 Must-Have Freeware Programs for Filmmakers.
Visio. Open Source Talk » enterprise2.0. Alfresco 2.2 has focused on offering content management and collaboration for everyone in the enterprise and has used web 2.0 technologies to bring together content management, collaboration, office and email integration all within one repository.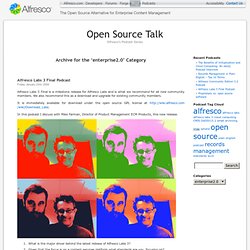 Many industry leading clients are using Alfresco to provide next generation user experiences, creating communities around their products, and delivering this at dramatically lower cost through the benefit of open source. These new community oriented product micro-sites need to be highly-scalable with the ability to integrate rich media with user generated content, and support rapid content update for a fresh customer experience, while promoting a consistent brand. Experience with this next generation of websites has driven the enhancements in Alfresco 2.2 including: PeopleAggregator - An Open Source Social Network. 6 Open Source Social Networking Projects - Flock, Elgg, Jcow - Reviews. Flock, Elgg, Jcow October 18, 2010 By Eric Geier The big social networking sites like Facebook, Twitter, and LinkedIn all us open source software to power their services.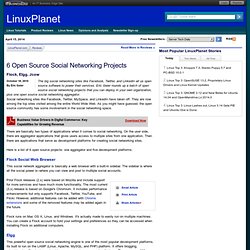 Eric Geier rounds up a batch of open source social networking projects that you can deploy in your own organization, plus one open source social networking aggregator. Social networking sites like Facebook, Twitter, MySpace, and LinkedIn have taken off. Open Source Social Networking. 12 Best Open-Source Social Networking Software. The 5 Best Open-Source Social Networking Software.
Previously, Abhijeet has highlighted three awesome sites where you can create your own social network easily.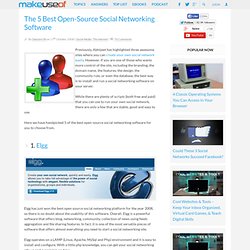 However, if you are one of those who wants more control of the site, including the branding, the domain name, the features, the design, the community rule, or even the database, the best way is to install and run a social networking software on your server. While there are plenty of scripts (both free and paid) that you can use to run your own social network, there are only a few that are stable, good and easy to use. 6 Promising And Open Source Social Networking Softwares To Create Your Own. There are lots of social networks from small to huge ones like Facebook or MySpace. Although trying to create the next Facebook may not be a good idea, you may want to create a niche network or empower & add new features to the network you already have. Here are 6 open source social networking applications which are developed continiously, well-documented & offer impressive functions. Elgg Elgg is a mature social networking framework which offers: advanced user management and administrationsocial networkingcross-site taggingpowerful access control listsinternationalisation supportmultiple view support (eg cell phones, iPhone)an advanced templating enginea widget framework and more.
---