Music
Psychology 101 at AllPsych Online. Introduction and Authorship Welcome to Psychology 101.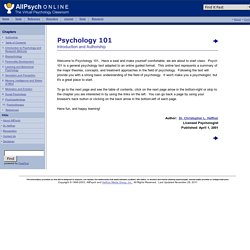 Have a seat and make yourself comfortable, we are about to start class. Psych 101 is a general psychology text adapted to an online guided format. This online text represents a summary of the major theories, concepts, and treatment approaches in the field of psychology. My playlist | My playlists | Listen to songs online | Music To Listen To By ... 7 Alternatives to Pandora and Last.FM | Mystery Tricycle. Whether you are annoyed by the ads on Pandora, the limited number of skips, or the abyss of cruel 30-second song teasers from Last.FM, many online listeners are growing weary of mainstream methods of hearing new music.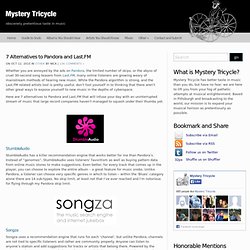 While the Pandora algorithm is strong, and the Last.FM related artists tool is pretty useful, don't fool yourself in to thinking that there aren't other great ways to expose yourself to new music in the depths of cyberspace. Here are 7 alternatives to Pandora and Last.FM that will infuse your day with an uninterrupted stream of music that large record companies haven't managed to squash under their thumbs yet. ChopinPlayer. Jukesy - music player powered by youtube and last.fm. Sugar in the Gourd: Old-Time Music. Listen to Free Music Online - Internet Radio - Free MP3 Streaming.
---