Web_3.0:Semantic_Apps
iGlue
Niche publishing Cover all the relevant news for your town or community, on an industry or event, or any topic you find fascinating. Content marketing Easily publish relevant, curated content daily to engage your community, build relationships and attract the right visitors to your brand. Web monitoring Automatically listen to signals from millions of sources to help identify influencers, competitors, experts and conversations around your brand.
read Twitter as a daily newspaper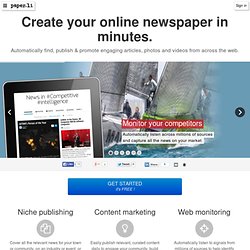 Inveni
iGlue
Franz Inc. Web 3.0's Database
Cpedia
Collibra - Put your business into context with Semantic Data Integration and Business Metadata for SOA, EAI and BI.
This site uses cookies to store information on your computer. Some cookies on this site are essential, and the site won't work as expected without them. These cookies are set when you submit a form, login or interact with the site by doing something that goes beyond clicking on simple links.
Vapour, a Linked Data validator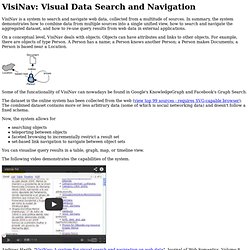 VisiNav -- Visual Data Search and Navigation
VisiNav is a system to search and navigate web data, collected from a multitude of sources. In summary, the system demonstrates how to combine data from multiple sources into a single unified view, how to search and navigate the aggregated dataset, and how to re-use query results from web data in external applications. On a conceptual level, VisiNav deals with objects. Objects can have attributes and links to other objects. For example, there are objects of type Person. A Person has a name; a Person knows another Person; a Person makes Documents; a Person is based near a Location.