Web_3.0:Semantic_Apps
Web_4.0:AI
iGlue. Read Twitter as a daily newspaper. Inveni. Recorded Future - Temporal & Predictive Analytics Engine. iGlue. Franz Inc. Web 3.0's Database. Cpedia. Meaningtool - Create Your Own AI. Collibra - Put your business into context with Semantic Data Integration and Business Metadata for SOA, EAI and BI. Vapour, a Linked Data validator. VisiNav -- Visual Data Search and Navigation.
VisiNav is a system to search and navigate web data, collected from a multitude of sources.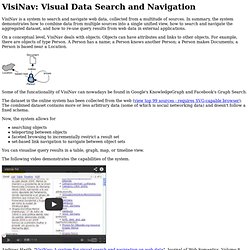 In summary, the system demonstrates how to combine data from multiple sources into a single unified view, how to search and navigate the aggregated dataset, and how to re-use query results from web data in external applications. On a conceptual level, VisiNav deals with objects. Objects can have attributes and links to other objects. For example, there are objects of type Person. A Person has a name; a Person knows another Person; a Person makes Documents; a Person is based near a Location.
Sig.ma - Semantic Information MAshup.
---