Web_3.0:Semantic_Apps
iGlue
read Twitter as a daily newspaper
Inveni
iGlue
Franz Inc. Web 3.0's Database
Cpedia
Collibra - Put your business into context with Semantic Data Integration and Business Metadata for SOA, EAI and BI.
Vapour, a Linked Data validator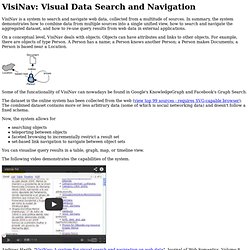 VisiNav -- Visual Data Search and Navigation
VisiNav is a system to search and navigate web data, collected from a multitude of sources. In summary, the system demonstrates how to combine data from multiple sources into a single unified view, how to search and navigate the aggregated dataset, and how to re-use query results from web data in external applications.