Health
Do As One. 14 natural items for your alternative first aid kit. Ten Worst and Best Foods. Do you want to know the best super foods to eat, for your better health?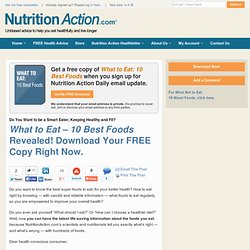 How to eat right by knowing — with candid and reliable information — what foods to eat regularly, so you are empowered to improve your overall health? Do you ever ask yourself "What should I eat?" Or "How can I choose a healthier diet?" Well, now you can have the latest life-saving information about the foods you eat, because NutritionAction.com's scientists and nutritionists tell you exactly what's right — and what's wrong — with hundreds of foods. Medicinal Herbs Guide - Natural Herbs Guide - Healing Herbs Guide.
The World's Healthiest Foods. 100 foods that can serve as the basis of your Healthiest Way of Eating.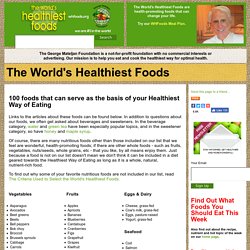 Links to the articles about these foods can be found below. In addition to questions about our foods, we often get asked about beverages and sweeteners. In the beverage category, water and green tea have been especially popular topics, and in the sweetener category, so have blackstrap molasses, honey and maple syrup. Printer. Who came up with the idea that we are supposed to drink orange juice at breakfast?
And why, if oatmeal is so good for us, do we eat that only in the morning as well? Apologies to the Palinites, but nutritionists are starting to realize that you and I like our oatmeal and OJ before we start the day because we evolved to like it that way—because enjoying the two together is healthier than eating each of them alone.
---