Health
1. Artery Crust Judging by the label, Marie Callender's (16.5 oz) Chicken Pot Pie has "only" 520 calories, 11 grams of saturated fat, and 800 mg of sodium. But look again. Those numbers are for only half a pie.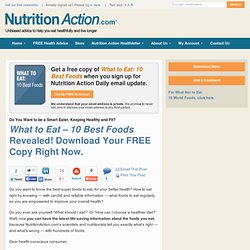 100 foods that can serve as the basis of your Healthiest Way of Eating. Links to the articles about these foods can be found below. In addition to questions about our foods, we often get asked about beverages and sweeteners. In the beverage category, water and green tea have been especially popular topics, and in the sweetener category, so have blackstrap molasses, honey and maple syrup.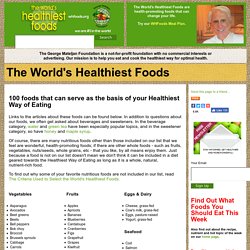 Who came up with the idea that we are supposed to drink orange juice at breakfast? And why, if oatmeal is so good for us, do we eat that only in the morning as well? Apologies to the Palinites, but nutritionists are starting to realize that you and I like our oatmeal and OJ before we start the day because we evolved to like it that way—because enjoying the two together is healthier than eating each of them alone.