Writing
Writing. Writing. Exit Slips. The Exit Slip strategy is used to help students process new concepts, reflect on information learned, and express their thoughts about new information.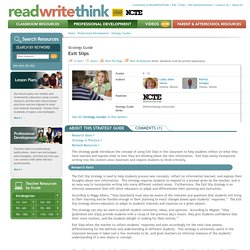 This strategy requires students to respond to a prompt given by the teacher, and is an easy way to incorporate writing into many different content areas. Furthermore, the Exit Slip strategy is an informal assessment that will allow educators to adapt and differentiate their planning and instruction. According to Peggy Albers, "they [teachers] must also be aware of the interests and questions that students will bring to their learning and be flexible enough in their planning to enact changes based upon students' responses." The Exit Slip strategy allows educators to adapt to students' interests and inquiries on a given subject. This strategy can also be used to publish student comments, ideas, and opinions. Www.writesf.com. Writing Workshop. Five Card Flickr. The Best Websites For K-12 Writing Instruction/Reinforcement.
Here's another one of my "Best of…" lists.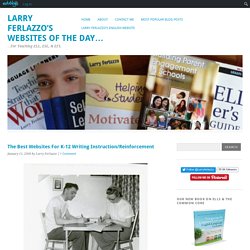 This time it's focused on websites to support writing instruction/reinforcement for grades K-12. You might also find these other writing-related "The Best…" lists useful: The Best Websites For K-12 Writing Instruction/Reinforcement. Collaborative storytelling. Writing with Writers |Scholastic.com. BibMe: Fast & Easy Bibliography Maker - MLA, APA, Chicago, Turabian - Free. Cube Creator. Essay Map.
Persuasive Writing. Digital Storytelling. The Art Of Storytelling » Home. Boom Writer. BoomWriter lets you easily incorporate and experience the benefits of technology as your students are engaged in the following (or similar) standards-based learning activities: Grade 3 CCSS.ELA-Literacy.W.3.3 - Write narratives to develop real or imagined experiences or events using effective technique, descriptive details, and clear event sequences.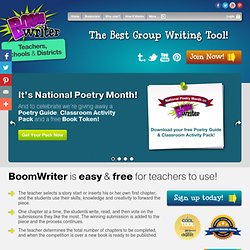 Using BoomWriter's feature allowing teachers to create their own story start, students collaboratively create imagined multi-paragraph personal narratives using a teacher generated prompt (e.g. "When I woke up on Saturday morning, I had no idea I was in for the craziest day of my entire life…"). Grade 5. Story Starters. Film English | Learning English Through Film.
---