Graphic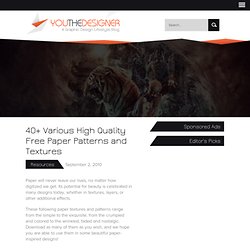 Resources September 2, 2010 Paper will never leave our lives, no matter how digitized we get. Its potential for beauty is celebrated in many designs today, whether in textures, layers, or other additional effects. These following paper textures and patterns range from the simple to the exquisite, from the crumpled and colored to the wrinkled, faded and nostalgic. Download as many of them as you wish, and we hope you are able to use them in some beautiful paper-inspired designs!
Importance Of Questionnaires In Logo Design And 7 Fantastic Resources
For a long time, when I first started working on the web, I advocated constant engagement with users, but never did it myself. My portfolio updates were erratic at best, rare at worst. Maybe it was my relative discomfort with the idea of publishing my work like a stream-of-consciousness when I wanted everything to look as polished as I'd have it when showing to a client - or maybe I just got busy. Probably both are true.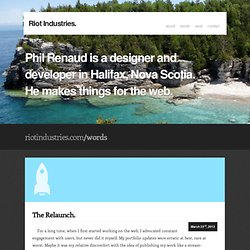 Riot Industries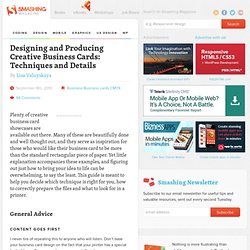 Advertisement Plenty of creative business card showcases are available out there. Many of these are beautifully done and well thought out, and they serve as inspiration for those who would like their business card to be more than the standard rectangular piece of paper.
Premium Layered .psd files, photoshop add-ons and webcode. | Layer Lovers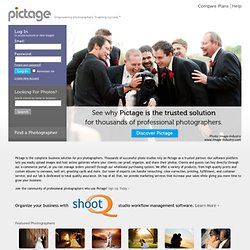 Find the Perfect Wedding and Portrait Photographer on Pictage.com
Pictage is the complete business solution for pro photographers. Thousands of successful photo studios rely on Pictage as a trusted partner. Our software platform lets you easily upload images and host online galleries where your clients can proof, organize, and share their photos. Clients and guests can buy directly through our e-commerce portal, or you can manage orders yourself through our wholesale purchasing system.
We are a blog dedicated to running giveaways so you can win great design related products! Prizes include design books, electronics, gadgets and a handful of other wicked stuff. Links: + Giveaway Winners + Advertise + Terms & Conditions Friends: + The Inspiration Blog + Circlebox Blog + Nouveller + Design Newz + SpyreStudios Follow us on the below sites for all the latest news and updates as and when it happens!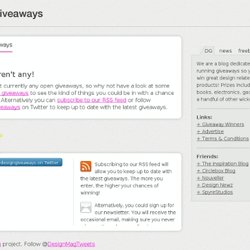 DesignGiveaways | Design Giveaways & Competitions, Win Great Prizes & Free Gadgets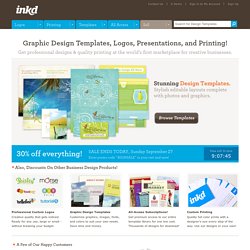 Inkd offers more professional graphic design templates available for download than anyone else. Simply select your files and download them to your computer. Customize graphics, images, fonts and colors to suit your own needs. Save time and money.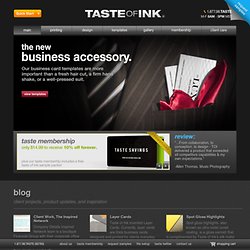 review:"...From collaboration, to conception, to design - TOI delivered a product that exceeded all competitors capabilities & my own expectations." -Allen Thomas, Music Photographyfact:Taste Templates was originally requested by fans, followers, and customers for an affordable route to own custom and professional agency design.review:"It's all about the professionalism, the speed, and the thought of knowing that I have one less thing to worry about." -Keith Esernio with Crossborders.tvlocated in New York, NYfact:Cotton Cards are printed manually (2-up) using an Original Heidelberg letterpress made in 1950. Decorative foil is applied to Cotton Cards with the force of a traditional Kluge press.review:"Extremely thorough in handling our artwork...loved this seamless process from production to the completion of a finished product."
The Ultimate Design Companion One membership. Thousands of resources. The ultimate life-saver for designers and developers.