#occupywallstreet
Get flash to fully experience Pearltrees
#MayDay is upon us, and this show of solidarity couldn't be more important.
Le mouvement Occupy Wall Street et ses dizaines d'avatars à travers le monde modifient en profondeur la manière de s'opposer aux gouvernants. Aux États-Unis, ils deviennent un objet social inédit, comme l'évoquait la semaine dernière l'écrivain Michael Greenberg dans la New York Review of Books. L'occasion de s'arrêter sur les images de ce mouvement, sur ses propres représentations.
The Occupy Wall Street movement drew a lot of attention in the beginning of October. The protests that started in New York rapidly spread around the world. This visualization shows how.
#OccupyWallStreet/ Occupy Wall Street
Alright you 90,000 redeemers, rebels and radicals out there, A worldwide shift in revolutionary tactics is underway right now that bodes well for the future. The spirit of this fresh tactic, a fusion of Tahrir with the acampadas of Spain, is captured in this quote: "The antiglobalization movement was the first step on the road. Back then our model was to attack the system like a pack of wolves. There was an alpha male, a wolf who led the pack, and those who followed behind.
Il aura fallu l'interpellation, samedi, de centaines de manifestants par la police de New York sur le Brooklyn Bridge pour que le mouvement Occupy Wall Street commence à faire les gros titres des médias à travers le monde. Ces militants ont tous été relâchés depuis, mais l'attitude des forces de l'ordre à l'égard d'une initiative anti-capitaliste qui semblait anecdotique jusqu'à présent a marqué les esprits. Pourtant, d epuis trois semaines déjà, ces campeurs de Wall Street qui demandent des comptes à la "planète finance" ont planté leurs tentes en plein cœur du quartier des affaires de New York. Ils se sont installés à deux pas de la Bourse et occupent les lieux 24 heures sur 24. Très actifs sur les réseaux sociaux , ils déclarent être les représentants des "99 %" en opposition au "1 % des Américains du nord" les plus riches.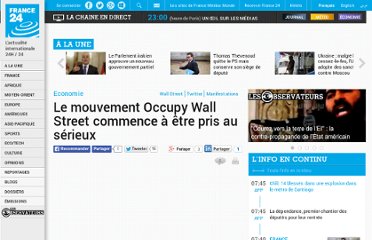 Ils appellent cela de la "vidéoprotection".