#occupywallstreet
Ows.occupy. #MayDay is upon us, and this show of solidarity couldn't be more important.
Our struggles are one, as we all face a system that only works for the 1%. We strike to support each other, and to collectively cry out "Enough!" This Tuesday, May 1st, let us stand together to reclaim our jobs, our communities, our lives. Occupy un avenir. Le mouvement Occupy Wall Street et ses dizaines d'avatars à travers le monde modifient en profondeur la manière de s'opposer aux gouvernants.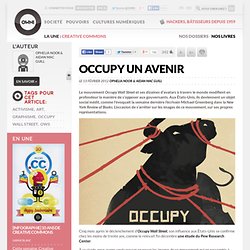 Aux États-Unis, ils deviennent un objet social inédit, comme l'évoquait la semaine dernière l'écrivain Michael Greenberg dans la New York Review of Books. L'occasion de s'arrêter sur les images de ce mouvement, sur ses propres représentations. Posters from the #Occupy movement – occuprint. Dataist: Occupy Wall Street visualized. We Are the 99 Percent: Archive. Occupy George. #OccupyWallStreet/ Occupy Wall Street. Occupy Wall Street | Protest New York pour la Révolution américaine. #OCCUPYWALLSTREET. Alright you 90,000 redeemers, rebels and radicals out there, A worldwide shift in revolutionary tactics is underway right now that bodes well for the future.
The spirit of this fresh tactic, a fusion of Tahrir with the acampadas of Spain, is captured in this quote: "The antiglobalization movement was the first step on the road. Back then our model was to attack the system like a pack of wolves. There was an alpha male, a wolf who led the pack, and those who followed behind. Occupy Wall Street | September 17th | #OCCUPYWALLSTREET. The fire in the soul of Occupy burns from Oakland to Quebec, Barcelona to Chicago, Wall Street to Moscow and Frankfurt… now the Zuccotti model is morphing and Occupy is undergoing a period of sustained global tactical innovation.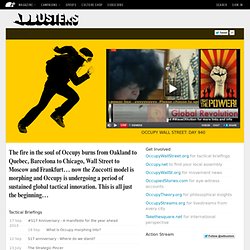 This is all just the beginning… Tactical Briefings. Le mouvement Occupy Wall Street commence à être pris au sérieux - ÉTATS-UNIS. Les militants anti-Wall Street retournent la vidéosurveillance contre les policiers. Ils appellent cela de la "vidéoprotection".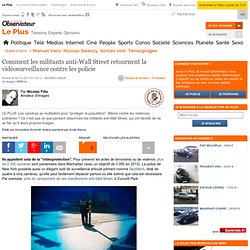 Pour prévenir les actes de terrorisme ou de violence, plus de 2.300 caméras sont parsemées dans Manhattan (avec un objectif de 3.000 en 2013). La police de New York possède aussi un élégant outil de surveillance articulé joliment nommé SkyWatch, doté de quatre à cinq caméras, qu'elle peut facilement déplacer partout où elle estime que cela est nécessaire. Par exemple, près du campement de ces manifestants anti-Wall Street, à Zuccotti Park. mi..chael/CC/Flickr.com.
---