HTML5 + WebGL
Learning WebGL. WebGL around the net, 8 April 2014 April 8th, 2014No Comments A fresh crop of development tools leads this week's WebGL headlines.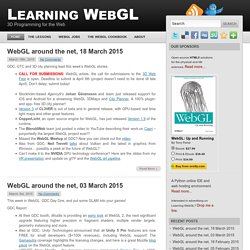 CL3VER is a cloud-based 3D engine in HTML5 and WebGL to create and publish interactive 3D scenes on web and mobile. They recently released the latest version of the product, which includes a free way for architects to publish designs and presentations to their clients.The team at Clara.io has some great new samples to check out: kid on the block Blend4Web ( develops a software framework for authoring and interactive rendering of three-dimensional graphics and audio in browsers.
Verold.
'webGL' in Amazing HTML5. HTML5 Canvas Tutorials. Popcorn.js | The HTML5 Media Framework. Flash est mort. Vive HTML5 ! : iRevolution: iPhone & Co. C'est officiel, Adobe met fin au développement de Flash sur les systèmes d'exploitations destinés aux tablettes et autres smartphones et ce à l'avantage du langage HTML5.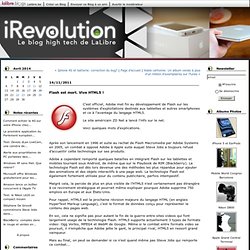 Le site américain ZD Net a lancé l'info sur le net. Voici quelques mots d'explications. Migrations Map: Where are migrants coming from? Where have migrants left? Visibo Product Updates. Framerate Fest - Experience the beauty of the web. The Planetarium. HTML5 Canvas and Audio Experiment. Plink by DinahMoe. 31 Modern HTML5 Demos That Can Beat Flash. Recently there has been a lot of talk about HTML5, mostly, because of the apple and Adobe conflict.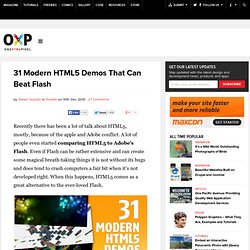 A lot of people even started comparing HTML5 to Adobe's Flash. Even if Flash can be rather extensive and can create some magical breath-taking things it is not without its bugs and does tend to crash computers a fair bit when it's not developed right. When this happens, HTML5 comes as a great alternative to the ever-loved Flash. 31 Modern and Cool HTML5 Demos. 10 demos HTML5 qui vous feront oublier Flash. Vous avez probablement déjà entendu dire que Flash était une technologie en voie d'extinction car bientôt remplacée par HTML5.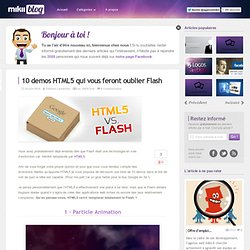 Afin de vous forger votre propre opinion et pour que vous vous rendiez compte des évolutions réelles qu'apporte HTML5 je vous propose de découvrir une liste de 10 demos dans le but de voir de quoi la bête est capable. (Pour ma part j'ai un gros faible pour la box Google en 3d !) Andrew Hoyer. HTML5. Un article de Wikipédia, l'encyclopédie libre.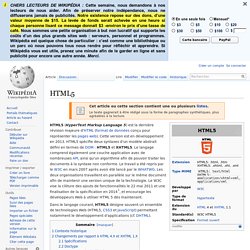 HTML5 (HyperText Markup Language 5) est la dernière révision majeure d'HTML (format de données conçu pour représenter les pages web). Cette version est en développement en 2013. HTML5 spécifie deux syntaxes d'un modèle abstrait défini en termes de DOM : HTML5 et XHTML5. Le langage comprend également une couche application avec de nombreuses API, ainsi qu'un algorithme afin de pouvoir traiter les documents à la syntaxe non conforme.
HTML5 Demos and Examples. Sketch in 3D With Animating Lines on HTML5 canvas. Bomomo. Chrome Experiments - Home. Interactive Experiments Focused on HTML5. Experiments This is my creative lab and interactive playground.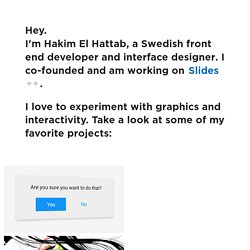 It's focused on the exploration of interaction, visual effects and technologies.
---