Fischli-Weiss
Peter Fischli & David Weiss Der Lauf Der Dinge A. Der Lauf Der Dinge (Faster and to the tune of the William Tell Overture) Le Cours des choses. Un article de Wikipédia, l'encyclopédie libre.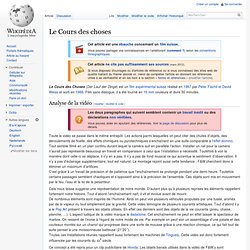 Le Cours des Choses (Der Lauf der Dinge) est un film expérimental suisse réalisé en 1987 par Peter Fischli et David Weiss et sorti en 1988. Film sans dialogue, il a été tourné en 16 mm couleurs et dure 30 minutes. Analyse de la vidéo[modifier | modifier le code] Toute la vidéo se passe dans le même entrepôt. Les actions parmi lesquelles on peut citer des chutes d'objets, des déroulements de ficelle, des effets chimiques ou pyrotechniques s'enchaînent en une suite comparable à l'effet domino. Der Lauf der Dinge.
The Way Things Go. Fischli Weiss - The Way Things Go - a Art et Création video.
---