Aurores boréales
GLAMOUR.
EN IMAGES. Les aurores boréales de Saturne
Aurora Substorm - Real time motion on Vimeo
creatureaurora_salomonsen_600.jpg (600×900)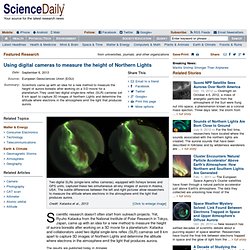 Using digital cameras to measure the height of Northern Lights
Sep. 6, 2013 — Scientific research doesn't often start from outreach projects. Yet, Ryuho Kataoka from the National Institute of Polar Research in Tokyo, Japan, came up with an idea for a new method to measure the height of aurora borealis after working on a 3D movie for a planetarium. Kataoka and collaborators used two digital single-lens reflex (SLR) cameras set 8 km apart to capture 3D images of Northern Lights and determine the altitude where electrons in the atmosphere emit the light that produces aurora.
Si vous ne vous laissez pas distraire par tout le reste, vous verrez peut-être la comète PanSTARRS dans cette image prise la semaine dernière dans le sud-ouest de l'Islande.
Aurores et comète en Islande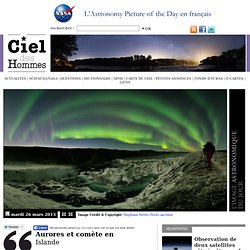 Aurora Borealis 2013-03-17
Les aurores boréales (aurora borealis ou Northern lights) sont des phénomènes naturels provoqués par de très puissantes éruptions solaires. De grandes quantités de matières solaires s'échappent de l'attraction solaire sous forme de particules et forment une sorte de "vent solaire", celui ci atteind la terre. Notre planète est protégée de ce vent solaire, sauf au niveau des poles Nord et Sud, et ce trop plein de particules mélangé aux atomes et ions de l'ionosphère génère des aurores boréales.
Les aurores boréales : Article Islande, tout sur Les aurores boréales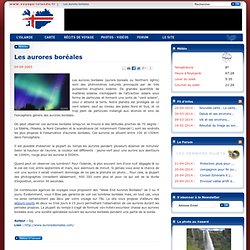 Aurora borealis ♣ Aurore polaire
NASA - Aurorae from Space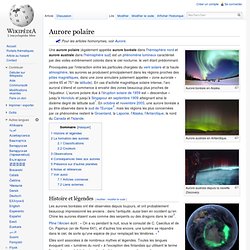 Aurore polaire
Un article de Wikipédia, l'encyclopédie libre. Pour les articles homonymes, voir Aurore. Aurore boréale en Alaska. Aurore australe en Antarctique. Aurore australe depuis la navette Discovery.
D'où viennent les aurores boréales ?
Déroulement d'une aurore polaire
Magnetospheric Substorm causing Auroras
NASA SDO - Aurora; What Causes Them?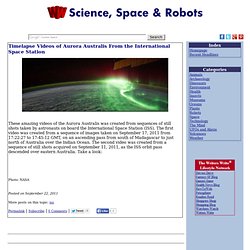 These amazing videos of the Aurora Australis was created from sequences of still shots taken by astronauts on board the International Space Station (ISS). The first video was created from a sequence of images taken on September 17, 2011 from 17:22:27 to 17:45:12 GMT, on an ascending pass from south of Madagascar to just north of Australia over the Indian Ocean. The second video was created from a sequence of still shots acquired on September 11, 2011, as the ISS orbit pass descended over eastern Australia.
Timelapse Videos of Aurora Australis From the International Space Station
Unbelievable Northern Lights (Aurora Borealis) in Lapland, Finland
Aurora seen from the ISS in Orbit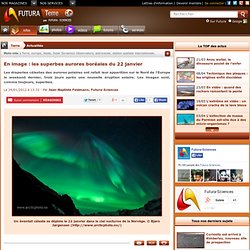 Un éventail céleste se déploie le 22 janvier dans le ciel nocturne de la Norvège. © Bjørn Jørgensen (http://www.arcticphoto.no/) En image : les superbes aurores boréales du 22 janvier - 4 Photos Découvrez la beauté des aurores boréales en image
En image : les superbes aurores boréales du 22 janvier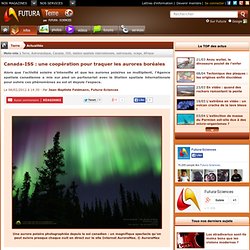 Canada-ISS : une coopération pour traquer les aurores boréales
Une aurore polaire photographiée depuis le sol canadien : un magnifique spectacle qu'on peut suivre presque chaque nuit en direct sur le site Internet AuroraMax. © AuroraMax Canada-ISS : une coopération pour traquer les aurores boréales - 2 Photos
VIDEO. Les plus belles aurores boréales de ces dernières semaines
Northern Lights: Amazing Aurora Photos of 2013
Projet AuroraMAX - Diffusion en direct des aurores boréales qui se forment au dessus de la ville de Yellowknife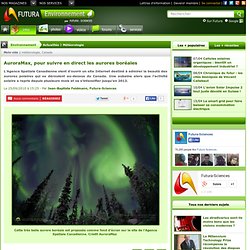 AuroraMax, pour suivre en direct les aurores boréales
Cette très belle aurore boréale est proposée comme fond d'écran sur le site de l'Agence Spatiale Canadienne. Crédit AuroraMax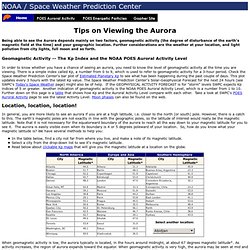 SWPC Tips on Viewing the Aurora
NOAA / Space Weather Prediction Center Being able to see the Aurora depends mainly on two factors, geomagnetic activity (the degree of disturbance of the earth's magnetic field at the time) and your geographic location. Further considerations are the weather at your location, and light pollution from city lights, full moon and so forth. Geomagnetic Activity -- The Kp Index and the NOAA POES Auroral Activity Level In order to know whether you have a chance of seeing an aurora, you need to know the level of geomagnetic activity at the time you are viewing. There is a simple index called Kp, a number from 0 to 9, which is used to refer to geomagnetic activity for a 3-hour period.
Twitter
Massive solar storms, as clearly visible on the NASA Goddard Photo and Video's photo on the left, are sparking intense Northern Lights displays for skywatchers at high latitudes since yesterday. They are reported to be visible again tonight, as a wave of charged particles reaches Earth. You can find even more photos in our Aurora Borealis search with more pictures from last night. And if you like space things… the Astronomy Photographer of the Year competition just opened the group for your entries.
The sky's ablaze with light tonight
Discover the cosmos! Each day a different image or photograph of our fascinating universe is featured, along with a brief explanation written by a professional astronomer. 2012 February 9
2012 February 9 - Trees, Stars, Aurora
Aurora 2012 on Vimeo
Bjørn Jørgensen photographer
Northern Lights on fire... | Flickr : partage de photos !