Elements
Stairs
No railings or risers, just sheets of straight modern glass on other side – but strong enough to support floating wood treads and the weight of people walking up and down them. Load-bearing glass is not new, but using them for residential interior spaces is striking.
Architonic
Glowing Wood
Not light as in weight nor as in the tone of the wood, this furniture is literally alight from within – bands of bright orange, purple, blue and white layered between slices of wood to create a remarkable look.
original flooring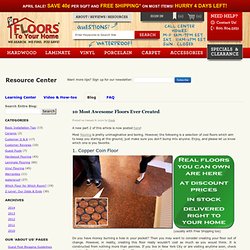 Posted on January 8, 2010 by Frank A new part 2 of this article is now posted here! Most flooring is pretty unimaginative and boring. However, the following is a selection of cool floors which aim to keep you staring at the ground; just make sure you don't bump into anyone. Enjoy, and please let us know which one is you favorite. 1.