Elements
Stairs. No railings or risers, just sheets of straight modern glass on other side – but strong enough to support floating wood treads and the weight of people walking up and down them.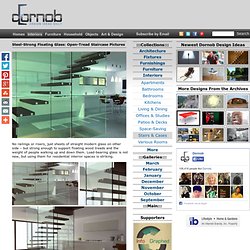 Load-bearing glass is not new, but using them for residential interior spaces is striking. The advantages over wooden or metal side panels and stair risers are obvious from the pictures – visibility not only through the stairs themselves but across the stairways as well from side to side. Glass can break under pressure put on its flat surface, but has remarkable weight-carrying capabilities along its length. Perfect for open loft spaces, building these is best done as part of a larger remodel or new construction project in which the staircases are installed along with other core structural floors and walls. Architonic. Glowing Wood. Not light as in weight nor as in the tone of the wood, this furniture is literally alight from within – bands of bright orange, purple, blue and white layered between slices of wood to create a remarkable look.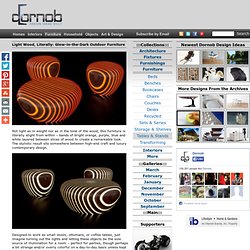 The stylistic result sits somewhere between high-end craft and luxury contemporary design. Designed to work as small stools, ottomans, or coffee tables, just imagine turning out the lights and letting these objects be the sole source of illumination for a room – perfect for parties, though perhaps a bit strange and/or overly colorful on a day-to-day basis unless kept to a outdoor garden, porch or patio space that could use some additional nighttime lighting.
The so-called Bright Woods collection from Gruppo Avanzini employs stripes of various kinds of wood with resin infill between each layer. Most are more uniform in color, darkness and grain to give equal weight to both the wooden and artificial elements. Original flooring. Posted on January 8, 2010 by Frank A new part 2 of this article is now posted here!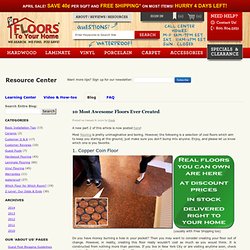 Most flooring is pretty unimaginative and boring. However, the following is a selection of cool floors which aim to keep you staring at the ground; just make sure you don't bump into anyone. Enjoy, and please let us know which one is you favorite. 1.
---