Google
Weblog
PowerMeter - Save Energy. Save Money. Make a Difference. We launched Google PowerMeter as a free energy monitoring tool to raise awareness about the importance of giving people access to their energy information.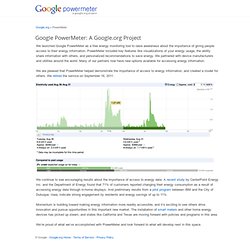 PowerMeter included key features like visualizations of your energy usage, the ability share information with others, and personalized recommendations to save energy. We partnered with device manufacturers and utilities around the world. Many of our partners now have new options available for accessing energy information. Buzz. Google Buzz n'existe plus.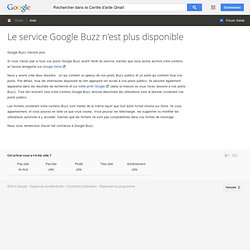 Si vous n'avez pas lu tous vos posts Google Buzz avant l'arrêt du service, sachez que nous avons archivé votre contenu et l'avons enregistré sur Google Drive. Nous y avons créé deux dossiers : un qui contient un aperçu de vos posts Buzz publics et un autre qui contient tous vos posts. Par défaut, tous les internautes disposant du lien approprié ont accès à vos posts publics.
---