Camera
Simulator. Custom SLR | Innovative Camera Gear. Homepage. 1001 Noisy Cameras. Make me an offer. Lomography. Stolen Camera Finder - find your photos, find your camera. Photo.net Home Page. Digital Camera Resource Page. PRAKTICA USERS. The Digiscoping and DSLR Bird photography Resource. Your Guide to Buying Old Film Cameras. With the boom in digital cameras, used film equipment has been dropping in price and increasing in availability.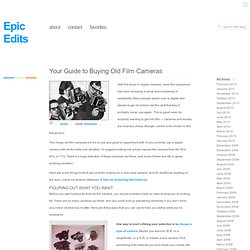 Many people switch over to digital and decide to get rid of their old film stuff that they'll probably never use again. This is good news for anybody wanting to get into film — cameras and lenses are insanely cheap (though, not the ones shown in this first photo!). The cheap old film cameras are fun to use and great to experiment with. If you currently use a digital camera with all the bells and whistles, I'd suggest looking into a fully manual film camera from the 50′s, 60′s, or 70′s. There's a huge selection of these cameras out there, and most of them are still in great working condition. Ken Rockwell. I AM Nikon. My Interest in Photography and My Camera Equipment. I first got into photography at the age of 12 in 1962 when I was introduced to the subject by a teacher at school who ran a photographic society.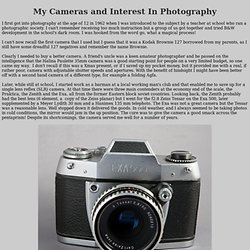 I can't remember receiving too much instruction but a group of us got together and tried B&W development in the school's dark room. I was hooked from the word go, what a magical process! I can't now recall the first camera that I used but I guess that it was a Kodak Brownie 127 borrowed from my parents, as I still have some dreadful 127 negatives and remember the name Brownie. Clearly I needed to buy a better camera. FILMO MOVIE CAMERA 1930'S. Vintage Bell & Howell "FILMO Sportster" MOVIE CAMERA, 1930's This old 1930's Bell And Howell Filmo Movie camera was really really small for it's time period.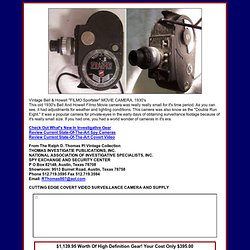 As you can see, it had adjustments for weather and lighting conditions. This camera was also know as the "Double Run Eight. " It was a popular camera for private-eyes in the early days of obtaining surveillance footage because of it's really small size.
---