Camera
Custom SLR | Innovative Camera Gear
Homepage
The Sony CEO had the keynote speech tonight at CES 2014, so the Sony announcements are coming later than the other manufacturers. Sony's announcement is headlined by a new APS-C E-Mount mirrorless camera, the Sony Alpha a5000. Despite the "a5000" name, the camera has the previous NEX looks, not the SLR-style of the Alpha a3000. The a5000 also goes by the name of iLCE-5000, just like the a3000 did before. It has a 20mp APS-C Exmor sensor with Wifi and NFC, 1080 video, up to 4fps, up to 420 shots, BIONZ X image processor, support for both SDXC and MemorySticks, 3-inch LCD (460 kilodots), no EVF, etc. The kit lens for this camera is the collapsible 16-50mm power zoom (SELP1650).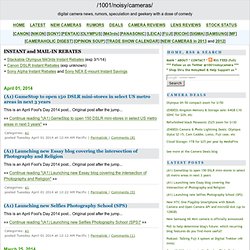 Make me an offer
An Introduction To All Things Lomography Lomography is a community and shop dedicated to creative and experimental analogue photography (or analog photography for those folks in the USA). We are passionate about analogue cameras and have a whole host of them available in our Online Shop and Lomography Gallery Stores; from classics such as the Lomo LC-A, Diana F+ and Lubitel, to new bestsellers such as the LomoKino, Belair X 6-12, and La Sardina, you're sure to find a new film camera to suit. We also stock a huge range of 35mm, 120 and 110 Films.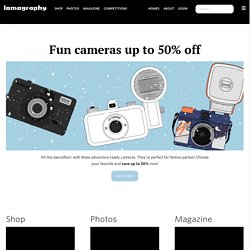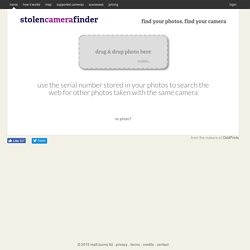 the more reliable "drag & drop" feature is only supported in chrome and firefox <div id="searchbox-noscript"><form action="/search" method="get"><fieldset><input class="search-textfield" name="serial" type="search" value="enter a serial number" /><input name="searchType" type="hidden" value="NOSCRIPT" /><input class="search-submit" type="submit" value="Search" /></fieldset></form></div><div id="noscript-intro"><div class='intro'>use the serial number stored in your photos to search the web for other photos taken with the same camera</div></div> drag & drop photo here use the serial number stored in your photos to search the web for other photos taken with the same camera Searching fail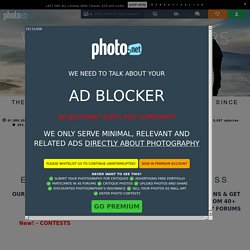 Tamron SP 180mm f/3.5 Di Macro LD-IF Review by Bob Atkins, January 2014 Check out Bob Atkins' positive review of the new Tamron SP 180mm Di Macro Lens! Read More Fujifilm FinePix XP200 Review by Dan Bailey, January 2014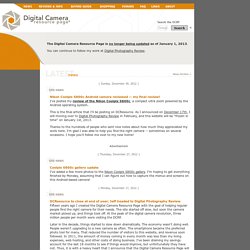 Fifteen years ago I created the Digital Camera Resource Page with the goal of helping regular people find the right camera for their needs. The site started off slow, but soon the camera market picked up, and things took off. At the peak of the digital camera revolution, three million people per month were visiting the DCRP.
PRAKTICA USERS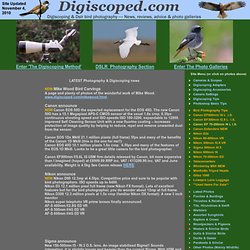 LATEST Photography & Digiscoping news NEW Mike Wood Bird Carvings A page and plenty of photos of the wonderful work of Mike Wood. Canon announce NEW Canon EOS 50D the expected replacement for the EOS 40D. The new Canon 50D has a 15.1 Megapixel APS-C CMOS sensor at the usual 1.6x crop, 6.3fps continuous shooting speed and ISO speeds ISO 100-3200, expandable to 12800. improved Self Cleaning Sensor Unit with a new fluorine coating – increases protection of image quality by helping to reduce, repel and remove unwanted dust from the sensor.
The Digiscoping and DSLR Bird photography Resource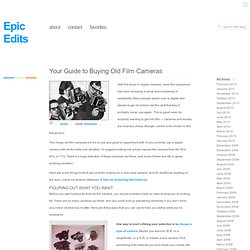 With the boom in digital cameras, used film equipment has been dropping in price and increasing in availability. Many people switch over to digital and decide to get rid of their old film stuff that they'll probably never use again. This is good news for anybody wanting to get into film — cameras and lenses are insanely cheap (though, not the ones shown in this first photo!). The cheap old film cameras are fun to use and great to experiment with. If you currently use a digital camera with all the bells and whistles, I'd suggest looking into a fully manual film camera from the 50′s, 60′s, or 70′s. There's a huge selection of these cameras out there, and most of them are still in great working condition.
Your Guide to Buying Old Film Cameras
I AM Nikon
My Interest in Photography and My Camera Equipment
I first got into photography at the age of 12 in 1962 when I was introduced to the subject by a teacher at school who ran a photographic society. I can't remember receiving too much instruction but a group of us got together and tried B&W development in the school's dark room. I was hooked from the word go, what a magical process! I can't now recall the first camera that I used but I guess that it was a Kodak Brownie 127 borrowed from my parents, as I still have some dreadful 127 negatives and remember the name Brownie. Clearly I needed to buy a better camera.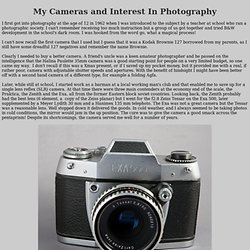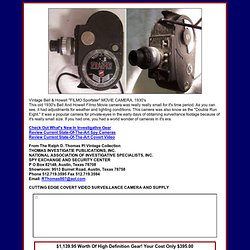 FILMO MOVIE CAMERA 1930'S
Vintage Bell & Howell "FILMO Sportster" MOVIE CAMERA, 1930's This old 1930's Bell And Howell Filmo Movie camera was really really small for it's time period. As you can see, it had adjustments for weather and lighting conditions. This camera was also know as the "Double Run Eight." It was a popular camera for private-eyes in the early days of obtaining surveillance footage because of it's really small size.